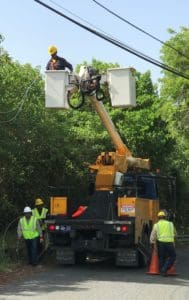 The Federal Emergency Management Agency is granting another $182 million to the Water and Power Authority and the Waste Management Authority to pay for restoration of electric power and debris removal.
While the sum is large, WAPA officials say it is really reimbursement for money already spent.
The new money is in addition to $254 million already approved, bringing the total approved to date for power restoration and debris removal to $436 million. Most of the money has been for power restoration.
This new grant has $173.8 million for WAPA and $8 million for the WMA for debris removal.
In January, FEMA authorized grants of roughly $99 million to WAPA and $39 million to WMA.
FEMA's Public Assistance grant program provides federal assistance to government organizations and certain nonprofits following a presidential disaster declaration.
According to WAPA spokesperson Jean Greaux, this money "will be used to pay contractors, suppliers and vendors that have already provided labor, services, supplies and equipment to WAPA in the restoration of electrical service to our residents."
He said WAPA is grateful for the continued support of our federal partners in the rebuilding of our electrical system.
"We look forward to working with them as we begin the process of hardening the electric grid and developing a more robust, and resilient transmission and distribution system. To that end, WAPA has received approval for various hazard mitigation projects on St. John, and is pursuing additional FEMA funding for similar projects on St. Croix, Water Island and St. Thomas," Greaux said.