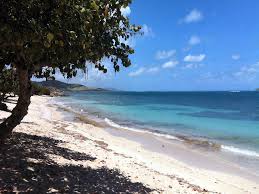 Cramer's Park Beach is now open to the public, especially for Easter Week campers. The beach is still beautiful — despite some facilities having been compromised due to the devastation of the 2017 hurricane season, the demolition of the restrooms, the missing cabanas and the lack of electrical power.
The beach is now available for public use. Upper level restrooms are still in good condition and functioning.
Camper fees have been waived but campers must pick up permits at the Department of Sports, Parks and Recreation's temporary office located at the Department of Public Works on St. Croix. Campers will be responsible for selecting their spaces when they arrive on the beach, according to Commissioner Pedro Cruz.