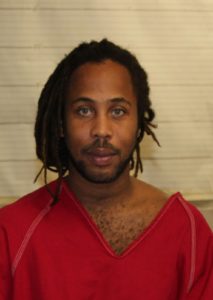 Nathaniel Thomas, who also goes by Jahreek, J, Ringo and R, escaped from Golden Grove Adult Correctional Facility Thursday night and is still loose.
Thomas is considered armed and dangerous, according to Supervisory Deputy U.S. Marshal Michael Picou, so be cautious and contact police immediately if you see him.
Thomas, born May 16, 1989 in the U.S. Virgin Islands, is a black mail, 5'8″, 120 pounds. He has hazel eyes and brown hair.
"He escaped at approximately 7:45 last night," and was discovered missing around 10:30 p.m., Picou said.
"He's to be considered armed and dangerous. He was just convicted Tuesday in federal court of unlawful possession of a firearm and reckless endangerment" Picou said.
He apparently ran and managed to get through the fence around the facility, Picou said.
Thomas' charges stem from an incident where he allegedly fired shots at the occupants of a silver Ford Explorer on May 15, 2016, at 4:26 a.m., at Diamond Crest Plaza on St. Croix. He has a prior marijuana-related felony.