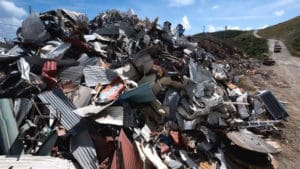 Waste Management Authority staff were put in the hot seat Thursday by board members pressuring them to complete the paperwork required by the Federal Emergency Management Agency to cover the payment of contracts for debris removal after September's storms.
According to board members, Finance Department Commissioner Valdamier Collens is willing to front the authority $2 million, but in order to get reimbursed by FEMA, Waste Management has to submit a sheaf of documentation, including certified payroll records and logs of when equipment was used and how much debris were hauled, in order for any money to be released.
"People are going to lose their businesses now," WMA board member Senator Marvin Blyden asked. "We have to expedite the process."
While WMA staff said that the process of obtaining information from local truckers is going on "right now," Blyden said there are several vendors who "don't know" exactly what they have to submit. Approximately 22 contracts are involved at this stage in the game and board members added Thursday that they needed to be treated with a "sense of urgency."
Solid waste managers have been working through both districts to get the information, and staff members added that they have followed up with calls and emails.
Meanwhile, outgoing board president Harith Wickrema said Thursday that the authority is $15 million in the hole and counting.
"We don't have enough money," he said. "We're in debt $15 million and counting and we will not get the sufficient allocations each month to cover our obligations, so we haven't been given the tools for the dedicated staff at Waste Management to deliver services as they should be. At the same time, we have to take care of payment for our haulers, which the governor has asked us to do since January, and while we have the money, we can't give it out because for whatever reason, we can't get the proper paperwork together to give to the authorities. It's a sad situation."
Still, Wickrema said despite challenges, he sees the next few months as a "new era" for the authority, as they welcome new interim leadership and management. The outgoing chair was removed on March 10 from his position by Gov. Kenneth Mapp, effective Friday.
In a letter Friday, Mapp cited a conflict between Wickrema's board position and his post as president of the Island Green Living Association in taking the action.