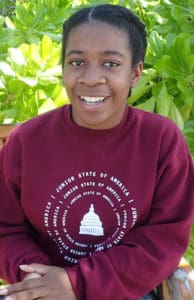 Editor's note: "Future V.I. History Makers" is series of profiles on young Virgin Islanders destined to make their mark on the world.
If she follows her dreams, Crystal Fahie will leave her mark as an international advocate for Virgin Islanders and especially those with cerebral palsy "to show what women and people from the territory can do."
The St. Croix native's goal is to become an international business and marketing consultant. Because global economies are interdependent, she believes that career will allow her to showcase the abilities of Virgin Islanders. She lives with cerebral palsy and plans to help others with the disorder to access the care and resources they need.
The 17 year-old senior at Good Hope Country Day School already displays some of entrepreneurial traits of Generation Z (those born from the mid-1990s through the second decade of this century) to help her achieve her objectives.
A multitasker, she is constantly in motion and said she doesn't sleep much because she feels it is wasting time. She plays two kinds of clarinets and steel pan drums. She writes poetry and plays basketball, softball, soccer and volleyball. She participates in community service projects and works in the school office. Over the weekend, she participated in Poetry Out Loud – a national poetry-reading competition.
Huffington Post said recently characteristics of Gen Z include being multitaskers, interested in global economics and diversity and having higher expectations than previous generations.
Fahie said her generation is faster to adapt to change and is more open-minded because they are used to seeing things change rapidly.
"We're the generation where the technical advances occurred," she said.
They are more liberal and "push for a lot of rights" such as sexual and racial freedoms, she said, and Gen Z is more vocal about its likes and dislikes. She wasn't shy saying she "is real iffy about statehood," but that "it is important being recognized as U.S. citizens."
"We're not afraid of the unknown – we want to see the unknown. I see people seeing something that exists and trying to change it into something else," Fahie said.
The history of the territory is important to Fahie and she said she learned about it mostly from her parents and grandparents – although none of them was born here.
"Dad takes me to events and lets me embrace so much culture. We are a melting pot but have made it (culture) our own," She added. "We thrive on creating things as our own. We don't leave it up to other people."
Over the years, with her family's encouragement, Fahie has learned to play steel pan quelbe and dance the quadrille – the territory's historic music and dance.
Caribbean history wasn't taught until the ninth grade, she said, but she is only studying V.I. history this year.
"People don't take enough time to learn V.I. history," she said.
Fahie feels she will need to move from St. Croix to further her education and begin her career. She said she will come home frequently and may be able to work remotely, eventually.
As one who has a lot of experience for her age, she has wise words of encouragement for other young Virgin Islanders.
"Take every opportunity. If you have time to do something, do it. You won't know if you like something if you don't try it."