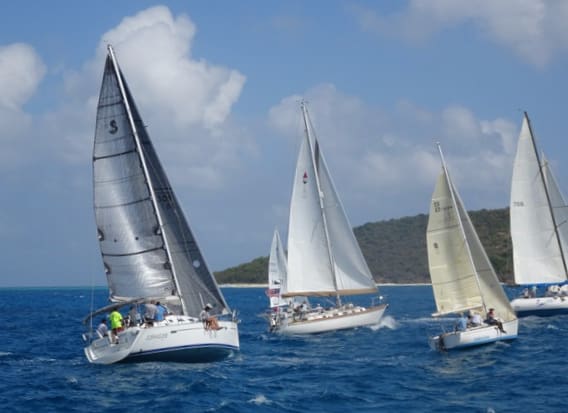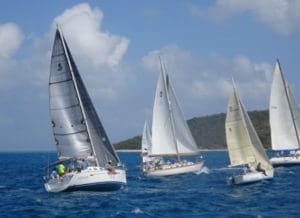 Boats from across the British and U.S. Virgin Islands came together over the weekend for the 25th annual St. Croix International Regatta, despite setbacks caused by Hurricanes Irma and Maria.
"The fleets are small, but this is the beginning of the rebuilding of this event," said Dick Neville, race pro for the big boats competing in the Buck Island Channel.
Don Makowiecki returned as pro for the young Optimists racing in Teague Bay.
As regatta host, the St. Croix Yacht Club welcomed racers with its Rum Party on Thursday. Competition commenced Friday with the Captain Nick Races, an annual salute to Nick Castruccio, who founded the regatta in 1992 and secured Mumm's Champagne as its then sponsor.
The official St. Croix International Regatta began Saturday morning with high seas and winds of 18 to more than 20 knots.
According to organizers, the Rhodes 19s made up this year's most competitive class.
Conditions took a toll on the Rhodes, and, by the finish of the second race, four of the five Rhodes had succumbed. All but Chris Schreiber and his crew aboard Chrys called it quits for the day.
But all five Rhodes returned, ready to race on Sunday.
"Just because you're exhausted, frustrated, and in physical pain doesn't mean you give up," said Mike Petievich whose boat, Up de Rhode, suffered a broken chain plate. "We were down four boats, and the next morning, everyone was at the start. That's what this is all about."
Chris Stanton's Rhode Devil came back to take top honors in the class.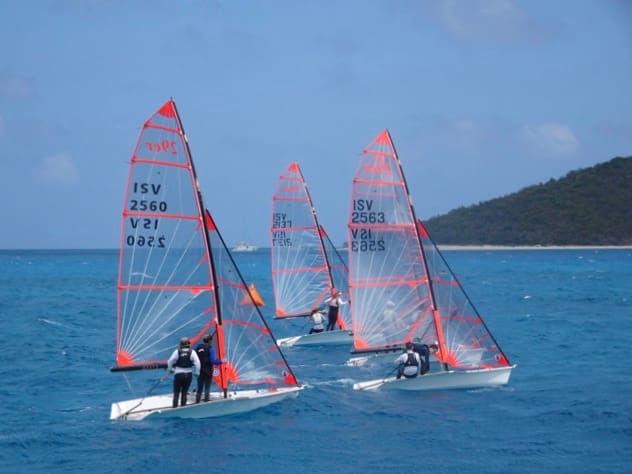 "We went from a broken rudder, to capsizing and nearly sinking, to back on top again," Stanton said.
Competition was closest among the 29ers and stakes were high: two of the four teams racing would go to the Youth World Championships in Corpus Christi this July – one team of two girls, one of two boys.
"It was a nail-biting experience to the end," said Kelly Klempen, whose daughters, Kate and Lucy, raced the 29ers. The girls won Saturday's last race by a boat's length and started Sunday one win ahead.
The Klempen girls will represent the U.S. Virgin Islands in Corpus Christi, along with Taylor Hasson and Steven Hardee.
"Winning came as a sigh of relief. We were on edge the whole time," said Hardee.
Hasson, skipper of the winning 29er boys' team, also spoke of relief.
"Now we know we are going to Corpus. It's our biggest event."
Meanwhile, Advanced Optimist Milo Miller won every race in his division both days and will compete at the Opti World Championships in Cyprus, Aug. 27 through Sept. 6.
"I got all bullets," said Miller who kept close watch on his biggest competition, J.J. Hasson. "My main strategy was to go toward the left side of the course. If you went left, you got a header and could use that to tack and cross," he said.
Joe San Martin won with Piglet in the Multi-hulls class.
Hotel California, skippered by Stephen Schmidt, returned from far flung places and won the St. Croix International Regatta in the Non-spinnaker class with its Crucian contingent as crew.
Stephen Schmidt (Non-spinnakers,) Chris Stanton (Rhodes 19,) and Joe San Martin (Multi-hulls) each perched on the great scales and won their weight in Cruzan Rum, as per tradition.
Milo Miller and the 29er teams took home Gatorade.
More detailed results are online at www.regattanetwork.com and www.yachtscoring.com.