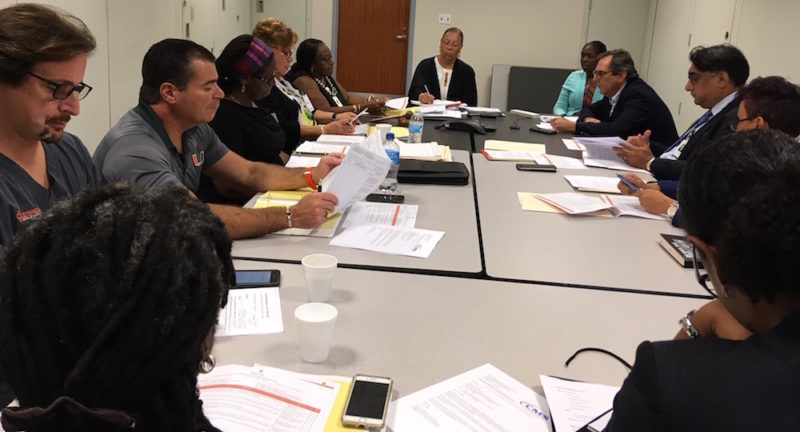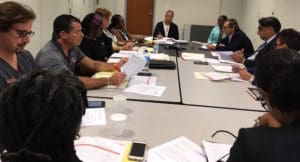 The Federal Emergency Management Agency (FEMA) has completed its assessment of hurricane damage to the Gov. Juan F. Luis Hospital, and progress is being made to replace operating rooms and other sections of the hospital with mobile units, board members were told Thursday.
According to Wanda Ruben, JFL chief executive officer, and Jim Craig of the Mississippi State Department of Health – a member of the FEMA assessment team – determination will be made whether the hospital will be repaired or replaced and what portion of the costs the federal government will cover.
"Anything over 50 percent may indicate potential replacement, anything under 50 percent normally indicates there will be some type of repair," Craig said.
He did not offer a timeline for a final determination and said there is a possibility FEMA may return to inspect the facility further. Currently, FEMA is evaluating the Schneider Regional Medical Center on St. Thomas, Ruben said.
To shore up the damaged hospital, three portable operating rooms have been ordered and are expected to arrive in two weeks. A contract for two trailers with dialysis equipment should be signed by a March 15 deadline, and the hospital hopes they will be delivered shortly after that.
A vendor to supply the so-called "hardened structures" that will make up the rest of the hospital, however, has not been located according to Ruben. Eventually, the structures will be set up outside the emergency room and in the parking area behind the V.I. Cardiac Center.
The hospital continues to struggle to hire physicians, especially in the emergency department. According to Dr. Raymond Cintron, chief medical officer, temporary physicians have filled three positions needed to cover the emergency room.
"The reason it is hard [to hire physicians] is because we're competing with the whole nation. The issue is the salary," Cintron said.
Dr. Jan Tawakol, president of the medical staff, reported that the hospital's medical evacuees in Atlanta have all been visited by JFL nurses, and plans are being made to return them a few at a time, depending on who wants to return and the condition of the homes.
Recovery efforts also include dealing with wet and moldy medical records, making provisions for future medical waste treatment and removing the fire watch condition by repairing the fire suppression system, Ruben reported.
Craig said the hospital's goal is to digitize medical records after they have been cleaned. In response to a question from Philip Arcidi, board member, Craig said the cost estimated for that process could be as much as $7 million.
According to Ruben, red bags of medical waste that were stacked behind the hospital for weeks have been disposed of with the help of the Environmental Protection Agency, and in the future hospital staff will dispose of the waste properly.
The hospital continues to struggle financially. Deepak Bansal, chief financial officer, said $10 million has been received from the federal government as part of a community disaster loan. The money has been deposited and will help cover JFL's operating costs.
Initially, Gov. Kenneth Mapp applied for a loan of $21 million for JFL, but that amount was not approved. There is some hope it may be granted in the future, according to Bansal.
The V.I. government has submitted its February allotment to the hospital, but Bansal said the Office of Management and Budget withheld $100,000 more than it should have for medical premiums, and $267,000 per month for payments to the V.I. Water and Power Authority. He said JFL's latest WAPA bill was only $80,000.
Bansal said no progress has been made in streamlining patient registration for presumptive eligibility under Medicaid, nor has the Center for Medicare and Medicaid Services (CMS) acted on a year–old request to increase its insurance reimbursement rate.
Board members present at Thursday's meeting were Chairperson Vera Falu, Theresa Frorup-Alie, Aida Bermudez, Philip Arcidi and Dr. Olivine Treasure.