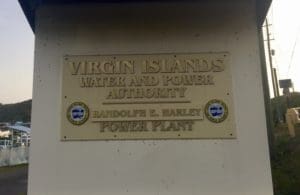 A leak of petroleum product near the V.I.'s Water and Power Authority's Randolph Harley Plant threatened WAPA's underground transmission cables, prompting an emergency electrical service interruption on St. Thomas and St. John and causing traffic changes for at least Monday.
Customers to the east of A&F Bakery (old Lucy's Market) in mid-town to the east end and St. John were affected by the service interruption.
At 9 p.m. Sunday, WAPA began procedures to re-energize the underground transmission lines ahead of restoring service to the affected customers. Service was restored to all customers at 10 p.m. WAPA personnel will continue to monitor both vapor levels and presence of the suspect fuel substance in the manholes on Monday.
To ensure that the public health and safety is not compromised, WAPA said in its news release, and until the source of the leaking substance is identified, the V.I. Police Department has instituted some traffic changes. Through at least Monday, vehicular traffic from the airport access road to the power plant is prohibited. Vehicular traffic is also prohibited from the Subbase roadway past Arian's restaurant toward the power plant entrance.
"Not only was the health and safety of the public a primary concern, but also the need to safeguard critical underground WAPA transmission facilities, which were also exposed to the fuel product," according to WAPA's Sunday night news release. The pair of transmission lines provide underground service to WAPA's electrical substations, and subsequently to customers from mid-town to the east end of St. Thomas, and to St. John.
According to WAPA, the incident began Saturday when a WAPA crew observed a flashover, or "arcing," in a manhole on the Subbase road near the PUMA fuel terminal, and in close proximity to the power plant entrance. Further investigation revealed the presence of fuel vapors and a free-floating substance in three manholes in the general area.
The situation was monitored overnight, and, as the level of the apparent fuel product in the manholes increased on Sunday, WAPA decided to stage an emergency electrical service interruption, disable the transmission cables, and pump out the manholes.
VITEMA activated its mobile emergency operations center and stood up an off-site command center. Responders included the Virgin Islands Police Department, the Virgin Islands Fire Services, the Department of Planning and Natural Resources and the Office of the Governor.
PUMA representatives and officials of the U.S. Coast Guard also were on site.
DPNR Commissioner Dawn Henry said Sunday night that samples of the liquid have been secured for testing.
"While at this time the source of the leaking fuel is not immediately known, my staff will carry out testing to ascertain the type of fuel which compromised the manholes and determine the source of this fuel type product."
"Our personnel will continue to monitor the performance of the underground circuits to ensure their normal functionality," said Clinton Hedrington, Jr., WAPA's chief operating officer of electric systems, "and to confirm whether their exposure to the suspect fuel product compromised them in any way."