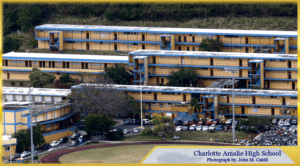 The Department of Education may have left out a key player in its plan to address potentially hazardous asbestos in some public schools.
A published report last week of asbestos uncovered in three public schools was news to the director of the government division charged with monitoring such things.
"If there is reason to believe there is asbestos (in the schools) we would go and take a look at it," said Norman Williams, Jr., director of the Air Quality Monitoring Program at the Department of Planning and Natural Resources. But he and DPNR public information officer Jamal Nielsen both said they were unaware of the problem when contacted late Friday.
Education Commissioner Sharon McCollum was quoted in a V.I. print newspaper Friday saying that inspections will be made at all territory schools because asbestos has been discovered in several classrooms at Charlotte Amalie High School and in the library at Ulla Muller School on St. Thomas as well as in a building at St. John's Julius Sprauve School that is unusable because of damage from the 2017 hurricanes. She said the department has blocked off the affected areas and has been working with federal Occupational Safety and Health Administration personnel on assessments and is trying to hire an abatement expert.
Education did not announce the discovery and it was unclear exactly when and how it was made. Department spokeswoman Keva Muller said the commissioner's comments were made in response to media inquiries. McCollum was unavailable for further comment Friday.
The presence of asbestos may not be a total surprise. The fire-retardant substance was widely used in building materials in the 20th century and was especially popular in school facilities post World War II. In the 1970s the federal Environmental Protection Agency began to warn of health hazards associated with long-term exposure to asbestos fibers, especially if they become damaged. In 1986 Congress passed the Asbestos Hazard Emergency Response Act to protect students and school personnel. The Virgin Islands conducted an asbestos abatement project in its public schools more than 25 years ago.
Three respiratory diseases are associated with the material: asbestosis, lung cancer and mesothelioma. An EPA website notes that the effects of exposure are not immediately obvious. It may take 20 years or more for symptoms to occur, making it difficult to rule out other factors for a disease.
The mere presence of asbestos does not necessarily mean anyone has been exposed to a hazard.
"Intact and undisturbed asbestos materials generally do not pose a health risk," according to the EPA. It can become dangerous only if fibers are released because of damage or deterioration.
The EPA recommends frequent inspections of areas known or suspected to contain the substance. As guidance for mitigation efforts, it recommends three approaches: encapsulation (spraying the material with a sealant to prevent fiber release); enclosure (putting a barrier around it); or removal.
Only a qualified expert should undertake removal because of the risk of making matters worse by damaging the material and releasing tiny fibers into the air, the EPA says.
Disregard for regulations governing removal can have serious consequences. In 2005 the owner of a V.I. company hired by the government for abatement work was convicted of multiple violations of the Clean Air Act in connection with the demolition of the Donoe Housing Community on St. Thomas.
As the local EPA arm, DPNR monitors air quality in general, including asbestos-related issues involving both government and privately-owned buildings. Williams said. When there is reason to suspect asbestos could be present, a permit for demolition requires an inspection and, if asbestos it found, mitigation measures.