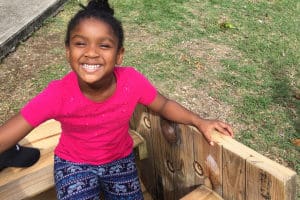 St. Croix Montessori School has become the first school in the Caribbean to be selected by Play by Design (PBD) as a Community-Build Playground Charitable Project.
With a rich, cultural history, a supportive and diverse island community and a strong vision for the future, St. Croix Montessori, a non-profit Montessori school, directs 100 percent of giving to community-based programs. It contributes to need-based scholarships as well as AMI-certified instruction in primary and elementary classrooms for children ages 2 ½ through 12 (preschool through 6th grade).
In the words of Maria Montessori, "Play is the work of the child." After St. Croix Montessori's natural outdoor play space was ravaged by Hurricane Maria, the Building Healthy Spaces project has been a way to bring parents, teachers, students and community members together in order to imagine an ideal play experience that supports children's development.
The school invites the St. Croix community to join it March 7-11 in bringing children's dreams to reality. Over five days, parents, children, teachers, staff and volunteers come together to work with Play by Design's experienced building team. Volunteers help measure, cut, saw, sand and hammer to put the playground together.
As a community-built project, volunteers may select the shift that works with their schedule. Childcare and food are provided to volunteers. St. Croix Montessori also seeks loans of tools and construction equipment needed to complete the playground. Any tools loaned are given safety checks and returned in the condition they were received; used saw blades will be replaced with new blades.
On Sunday evening, the students will have a ribbon-cutting ceremony opening the playground.
The playground project replaces the annual Taste of India benefit dinner. In honor of that tradition, volunteers who participate in four or more construction shifts will receive a ticket for an Indian buffet dinner around 5 p.m., Sunday.
Established in 2006, St. Croix Montessori is a diverse, service-based school that also offers annual Summer Enrichment Programs with guest instructors to over 150 students from across the U.S. territories and the continental United States.
St. Croix Montessori thanks Play By Design and community sponsors: The St. Croix Foundation for Community Development, Viya, the Christmas Boat Parade, Mo Mulching, Top Quality Landscaping, St. Croix Trading Company, CHE Land Surveyors, the Community Foundation of the Virgin Islands, Echo Valley Tires and Tropical Shipping.
Food for the volunteers also possible due to support of Plaza East, Food Town, Coca Cola, Paquitos, Kmart, Lost Dog Pub and Cost-U-Less. Also, Campus Ministry for Service at LaRoche College in Pittsburgh for donated three days of building support.
For more information, visit www.stcroixmontessori.com or email [email protected] or call 718-2859