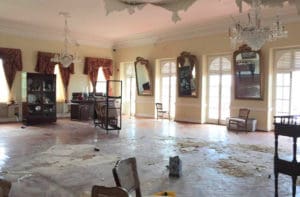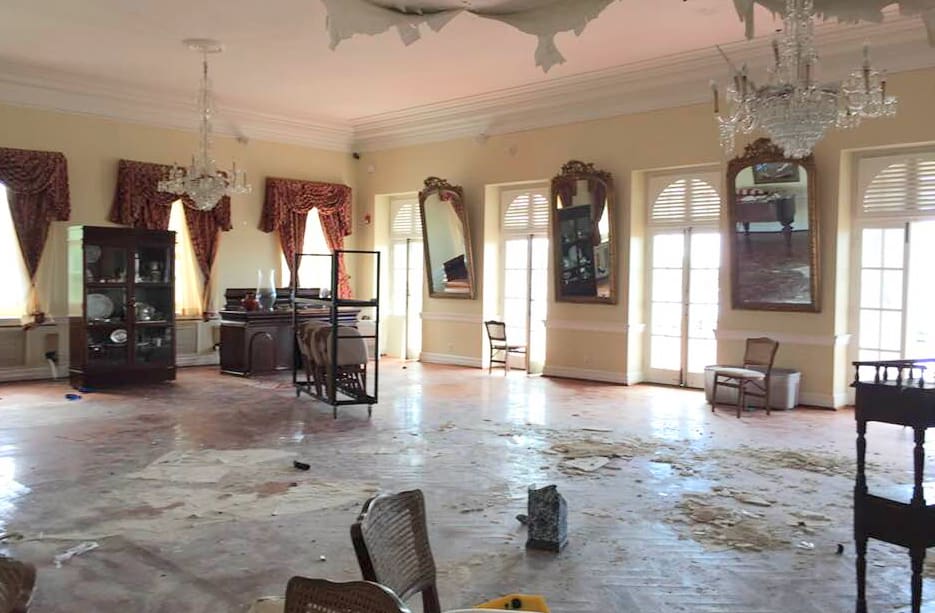 *Updated- See Below* A bill that would create an unfunded curator position to manage Government House's art and antiquities cleared the 32nd Legislature's Committee on Workforce Development, Consumer Affairs and Culture Monday, but did not have the support of the Office of the Governor.
Testimony from Government House Chief of Protocol Lisa Webster-Potter indicated that the governor's office considers the curator position redundant.
An earlier version of the bill, No. 32-0024, placed the curator position under the Office of the Governor and mentioned only the collection at Government House as the curator's trust. An amendment introduced at the beginning of Monday's committee hearing, however, moved the position to the Department of Planning and Natural Resources, and expanded its duties to the care of all materials in government-owned and operated museums.
Discussion at the hearing remained focused on the collection at Government House, which includes items at all public residences assigned to the governor or lieutenant governor, including Estate Catherineberg on St. Thomas, Sion Farm on St. Croix, and the Battery on St. John.
"It is the position of the Office of the Governor that there are sufficient mechanisms in place to satisfy the proposed requirements," Webster-Potter said of the bill, adding that she "proudly and respectfully upholds her responsibility as current steward" of Government House's collection.
Many of the duties that the bill assigns to a curator are already part of the mandate of the territory's State Historic Preservation Office, she said, and the small size of Government House's collection would leave a curator without daily duties.
January media reports, which Government House disputes, called into question how well the government's collection and properties were being cared for after September's storms. The reports highlighted multiple security breaches that allowed non-government individuals to enter storm-damaged Government House unaccompanied.
Some photos published with the reports appear to show damaged and unsecured items, but Government House says what is depicted are non-valuable pieces and reproductions. A request by the Source to view the collection was denied in February. (See the related link below, "Government House Says Art and Antiquities Are Safe, But Press Can't View Them.")
Webster-Potter said Monday each individual agency of the V.I. Government does its own inventory and appraisal of the "precious" items it owns, and Government House did one in 2015. She declined to give the value of the collection, however.
"At this time, I don't choose to put that amount on the floor. Maybe in a different setting we can do that."
Sen. Janelle Sarauw said that as the Legislature's youngest member she spoke for a generation who feels the V.I.'s historical collections are often inaccessible.
"Right now, our antiques are like a secret society," she said. "They're locked up someplace and who has access to them are only the people who know about them. That's unacceptable. The question today is who are we preserving the culture for?"
Senate President Myron Jackson, sponsor of Bill No. 32-0024, said the proposal is particularly urgent because cultural and historic preservation is "at the bottom of the totem pole when it comes to our hurricane recovery."
"I think we are at that threshold where we recognize that the protocols established for our collections are totally inadequate, and we should do better as stewards of the cultural patrimony of this beautiful Virgin Islands," Jackson said.
Throughout Monday's hearing, responses by officials to senators' questions appeared to highlight significant gaps in the government's preservation practices.
Commissioner of Property and Procurement Lloyd Bough Jr. said his department, which has the primary responsibility for tracking and inventorying government assets, does not have a completed list of all historical or culturally-valuable items owned by the V.I. Government.
Although Bough said such a list was a top priority of the department, and is "in progress," he declined to give a reason why a completed one does not exist.
Things did not appear to be much clearer at DPNR's Division of Libraries, Archives & Museums. The division's director, Arlene Pinney-Benjamin, said it does not have a completed inventory of precious items either, and she could not say when one would be completed.
For the past eight months, the territory's archivist position has been empty.
"I'm concerned that some government-owned art and artifacts we don't even really know where they are right now," said Senator Positive Nelson.
Felipe Ayala, chairman of the St. Thomas-St. John Historic Preservation Commission, said important items are safe and accounted for, stored in various government buildings and in storage units.
Nelson asked specifically about items bought at auction during the administration of Gov. Charles Turnbull. Turnbull faced criticism during his administration for purchasing antiquities for the V.I. Government with what some observers said was too little oversight.
Ayala, who described himself as the "self-appointed curator" of Government House under the Turnbull administration, said many of the antiques procured during that time survived September's hurricanes unscathed.
But he also said some pieces bought at auction by Turnbull had never been delivered after the organizers of a Danish West Indian furniture auction went to court over their partnership. Those organizers were economist Warren Mosler, who is now running for V.I. governor, and former Sen. Wayne James, who is now facing unrelated federal corruption charges.
"Even that response begs further concern," Nelson said.
Bill No. 32-0024 aims to avoid future controversies involving government-purchased antiquities and art by establishing a protocol for acquisitions. That protocol would mandate the approval of any government purchase by the curator and two members of a commission that the bill would establish, including its chairman.
The commission would consist of eight members and fall under the Department of Property and Procurement. The members would include the director of the V.I. Council of the Arts, the DPNR commissioner, and the territorial archivist, among other officials.
That commission would be one more of the more than 100 commissions and boards established by V.I. law, many of which are non-functional due to a lack of members and the resources to enforce their mandates.
Among stakeholders at Monday's hearing, Webster-Potter was the only testifier to withhold support of the bill. All others said further amendments can be made to strengthen the bill as it progresses through the Legislature.
Also delivering testimony or answering questions Monday were Susan Lugo, former territorial archivist; Tasida Kelch, director of VICA; Fort Christian curator Levi Farrell; Sean Krigger; deputy state historic preservation officer; and Vincent Richards, deputy commissioner of Property and Procurement.
Others, including former chief of protocol for Government House Raul Carillo, had their support of the bill read into the record.
Not on the agenda, but delivering testimony in support of the bill's intent, was Richard Kurin, distinguished scholar and ambassador-at-large for the Smithsonian Institution. Kurin is visiting the territory to offer advice on preservation issues after Hurricanes Irma and Maria.
"Funding is always an issue for cultural preservation," Kurin said. "But a little bit of culture goes a long way in the pride and self-respect of a people."
Voting to forward the bill to the Legislature's Committee on Rules and Judiciary for further discussion were Jackson, Nelson, Sarauw, Sens. Brian Smith and Janette Millin Young. Sens. Marvin Blyden and Nereida Rivera-O'Reilly were absent for the vote.
Editor's Note: This story has been updated to reflect that Sen. Janette Millin Young also voted in favor of the bill.