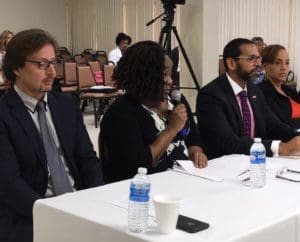 After several hours of discussion and testimony from stakeholders Thursday, the Senate Rules and Judiciary Committee returned a multifaceted health bill to its sponsoring committee and quickly approved two other bills.
Bill No. 32-0147, sponsored by Sen. Nereida Rivera-O'Reilly, aims to make it easier for physicians to work in the territory by eliminating the Special Purpose Examination of the U.S. Federation of State Medical Boards (SPEX) for doctors who have already passed medical board exams, and frequently have been in practice for years.
Several senators said the current medical board system makes it difficult for new physicians to relocate and work in the territory. The last two governors have not appointed the required civilians to the medical board, and currently the licensing entity comprises physicians only.
The bill, if passed, will also waive gross receipts taxes for the treatment of patients insured by Medicaid, Medicare, the Veterans' Administration, and those who are uninsured.
Bureau of Internal Revenue Director Marvin Pickering said he estimates the territory's tax coffers could lose approximately $7 million per year by eliminating physicians' gross receipts taxes. That figure was later amended to approximately $1.8 million. It would take about six months to set up the IRB system to facilitate the new tax structure, he said.
Tracy Sanders, president of Continuum Care Inc., asked during her testimony in support of the bill that her company, which provides hospice and home healthcare for Medicare, Medicaid, veteran and uninsured patients, be included in a list of exempt entities.
"Since 2000, Continuum Care Inc. has provided more than $500,000 in uncompensated care. We have also funded scholarships totaling $109,000 for those pursuing a career in healthcare," she testified.
The most controversial item in the bill seeks to eliminate the requirement for Health Department certificates of need. The certificates of need are meant to improve and lower healthcare costs, but some testifiers said current law does the opposite.
O'Reilly argued eliminating the need for a CON encourages competition and better healthcare.
"This legislation does nothing but good for the people we represent," she said.
Earlier this month at a Health, Hospitals and Human Services Committee hearing, officials from Frederiksted Health Care, Inc. testified they had been waiting since last May for CON approval to open a clinic for low-income patients.
The only communication they received was a recent notice that their application process is on hold, they testified. The new clinic would provide 3,000 people with low-cost medical, dental and behavioral healthcare. Members of the committee questioned the Health Commissioner at that hearing until she agreed to review the CON.
Warren Gardiner of Caribbean Kidney Center, the only private dialysis provider on St. Croix, opposed changing the CON law.
In 2013, he opened a facility on St. Thomas in response to a CON issued for hemodialysis services to augment those offered by the Schneider Regional Medical Center. Soon, a third CON was issued and another business opened. After three years, the third company closed with all three providers suffering economic losses, he said.
A section of the bill that paves the way for the use of telemedicine by licensed healthcare professionals was supported by testifiers and senators Thursday. Diane Capehart of AARP said research shows a decrease in hospitalization stays by 30 percent in Colorado, and a 38 percent reduction in Kansas, with the use of telemedicine technology.
"The benefits of telehealth not only include improved access to specialists, but faster treatment, the comfort of remaining close to home, eliminating the need for traveling and the ability of healthcare providers to improve patient outcomes," said Gwendolyn Williams, state program director of the Medicare Quality Improvement Organization for the V.I.
Williams also described her mother's suffering due to not being able to be treated near her home, surrounded by her family and friends.
Also testifying at Thursday's hearing was Terez Hughes, a mother of six with a cervical cancer diagnosis. She spoke of waiting for a referral from Human Services for a simple exam necessary to begin treatment through Medicaid. She described a lack of oncology services and medical care, and said she could "put a face to what many are going through."
Sen. Novelle Francis, committee chair, apologized on behalf of the V.I. government.
After hearing 10 testifiers, senators voted to send the bill back to the Health, Hospitals and Human Services committee, where O'Reilly said amendments will be added.
Approved bills Thursday included Bill No. 32-0026, which adds "modern language" to the veterinarian licensing procedure in the V.I., and allows veterinary technicians and technologists to serve on the board. It also allows licensed veterinarians to travel to the territory and participate in free spay and neuter clinics.
Bill No. 32-0028 amends the V.I. Veterinary Practice Act, and the V.I. Code relating to the duties of the V.I. National Guard by placing the Youth About Face program under the jurisdiction of the Adjutant General. According to Sen. Kurt Vialet, the bill's sponsor, funding will come from the V.I. Labor Department and federal funds that are not being used.
Both bills will be considered next by the 32nd Legislature's Committee of the Whole. If approved, they will be sent to Gov. Kenneth Mapp for his signature.
Attending Thursday's hearing were Sens. Francis, O'Reilly, Vialet, Jean Forde, Janette Millin Young, Positive Nelson, Janelle Sarauw and Brian Smith.
Editor's note: This story has been edited to remove a claim from one of the testifiers which could not be verified.