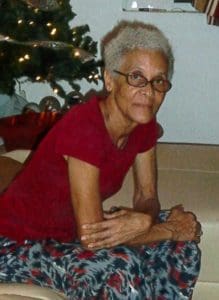 Eulalia Petrus of Estate Two Williams died on Monday, Jan. 29. She was 81 years old
She is survived by her daughter, Lorrayne L. David Reyes; adopted son, Christian Samuel; grandchildren: Erika L. Reyes, Shawon A. Reyes, Kyle C. Reyes and Khefren O. Sackey; great-grandchildren: Asiel Mateo and Madilynn Marie; nieces: Patricia Mills, Sharon Jackson, Myrna Gaillard Hammond, Millicent "Taffy" Gaillard Shepherd, Eulalie "Muffin" Gaillard Smith, Sarah Lee Gaillard Callands, Debbie Gaillard, Lee Cook Mayfield, Iris Cook Morris and Myra Jackson; and nephews: Ignatius Jr., Kenneth, Roy and Charles Jackson, Dennis Gaillard, Eugene Morris, William (BJ) Cook, Gary, Anthony (Tony) and Ernie Meyers, Neal and Christopher Jackson.
She is also survived by brother-in-law, William Cook; sisters-in-law: Antoinette Petrus, Julia Pankey and Irene Mason; godchildren: Rena A. Williams, Beverly Joseph, Morlan O' Bryan, Tina Harley, Jerrika Sealey and Tafarah Meyers; and cousins and other relatives: Louis Golden, Eugenie Golden, Lorimas "Queen" Galloway, Burell "Bowie" Gill, Geralda "Audrey" Farrell, Beverly Williams, Gordon Reilly, the deChabert, Schuster and Schjang families, Bernice Jackson, Sen. Myron D. Jackson, Ari Arri, Sharon and Gerald McDonald, Carolyn and Joseph Clendinen, Courtney Woods, Rachael Nesloney and Carter Jordan.
Other survivors include special friends: Gwendolyn and Alfredo Hodge, Frederick Joseph, Charles and Georgiana (Georgie) Farrell, Mona Gerard, Dodson and G. Luz James, Rev. Robert and Carol Wakefield and family, Rashida Morris, Selvin "Willie" Willocks, Harold, Linda, Joseph and Lavern Hodge, Marilyn Santos, Marilyn Christian, Ricardo Romero, Wayne Clarke, Rael Sackey, Doris Brown, Sharon Brown, Michelle Branch, David McIntosh, Gloria Marcus, Lucien James, Muriel Stevens, Carlvin, Sylvin and Kevin Stevens, Michelle A. James, Roger Adams, Polly Benjamin, Gretchen and Charlie Freehling; as well as other relatives and friends too numerous to mention.
The viewing will begin at 9 a.m. and the funeral service will follow at 10 a.m. on Saturday, Feb. 17, at Holy Trinity Lutheran Church, Frederiksted. Interment will follow at Kingshill Cemetery.