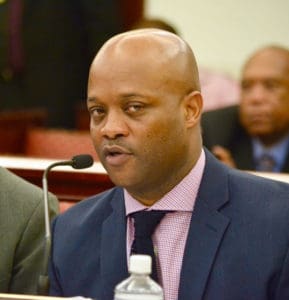 The V.I. government has entered into a federal disaster loan of $85 million to help keep services running, but the disbursement of an additional $211 million announced in November isn't certain, Public Finance Authority Director Valdamier Collens said Tuesday.
Collens made the remark to members of the 32nd Legislature's Committee on Finance at a hearing to discuss contracts executed by the V.I. government after Hurricanes and Maria.
At the hearing, Sen. Neville James asked why Collens's testimony only included reference to an $85 million disaster loan instead of a much larger figure introduced at a previous hearing.
The $85 million figure represents the amount that the territory is eligible to receive through a Federal Emergency Management Agency loan based solely on "the full faith and credit of the Government of the Virgin Islands," Collens explained.
Any remaining loans disbursed to the local government through FEMA must be secured by first-priority liens on new gross receipts and rum matching fund bonds. Any future loans the government receives will depend on whether first-lien status can be given to FEMA and the U.S. Treasury, which could violate the terms of previously issued bonds.
The V.I. Government failed an additional-bonds test in December that would have allowed the issuance of new gross receipts tax bonds to secure its FEMA loan. Collens said the government has moved on to pursuing the same strategy with rum matching fund bonds.
A loan amount in the $100 million range, and no greater than $200 million, can likely be secured by the matching fund bonds if first-lien priority can be given to the federal government, Collens said.
But even if the V.I. government receives the full $296 million disaster loan it expected for this fiscal year — $250 million for the operations of the central government and $46 for the territory's hospitals – it will still be faced with a more than $200 million budget shortfall. That budget shortfall can't be addressed by private borrowing, since the territory was shut out of credit markets in 2017.
If the loan turns out to be only the initial $85 million disbursement, the prospects of the government functioning at current levels through the end of the year appear even more questionable.
$65 million of FEMA's $85 million disbursement has gone to cover operations of the central government that otherwise would have been interrupted by a loss of revenue due to Hurricanes Irma and Maria. $10 million each has been marked to keep the territory's damaged hospitals running.
By law, the money cannot be used for capital projects or repairs. So far, $27 million has been used to pay employee salaries and fringe benefits. $9 million has been used to catch up with past due healthcare premiums. $8 million has been used to make a small dent in past due contributions to the Government Employees Retirement System. Past due contributions since September's storms amount to $40 million, while the pension system's entire unfunded liability measures in the billions.
"We're going to work on the $40 million issue [at GERS], but the problem that needs to be solved is three to four billion," Collens said.
In addition to loan money, the V.I. government is eligible for federal grants to help repair its infrastructure, and according to Commissioner of Property and Procurement Lloyd Bough Jr., will receive $120 million from storm-related insurance claims on its properties. How that insurance money will be distributed between branches of government and different agencies is still under discussion, Bough said.
In order to help manage and comply with any federal grants awarded to the territory, the Public Finance Authority has entered into contracts with two consulting companies – Ernst and Young and Witt O'Brien's.
Witt O'Brien's, whose contract is for an amount not to exceed $15 million annually for the duration of the recovery, will deal directly with FEMA to maximize federal funds for the territory.
Ernst and Young, whose contract is for an amount not to exceed $5 million annually for the duration of the recovery, will provide oversight and advise the V.I. government on grant compliance.
Both contracts were fully executed on Dec. 6.
A lobbying company – Squire Patton Boggs – has also been hired to advocate for the territory's recovery in Washington D.C. A six-month contract for an amount not to exceed $235,000 was executed on Nov. 9. The lobbying firm includes a team of 1,500 lawyers and former congressional leaders, including former speaker of the house John Boenher.
Present at Tuesday's information-gathering hearing were Sens. James, Nereida Rivera-O'Reilly, Brian Smith, Tregenza Roach, Dwayne DeGraff, Mavin Blyden, Kurt Vialet, Janette Millin Young, Janelle Sarauw, Jean Forde and Positive Nelson.