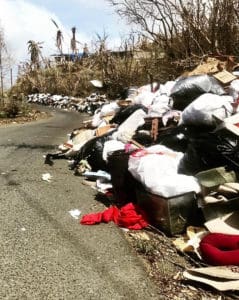 The day before debris pickup was scheduled to end on St. John, the Federal Emergency Management Agency extended the deadline for another month, FEMA confirmed Tuesday.
The U.S. Army Corps of Engineers is working with the V.I. Department of Public Works to remove debris from rights of way on St. Thomas and St. John. The debris collection process on St. Croix is managed by Public Works and the Waste Management Authority.
All debris should be separated into categories (vegetation, electronic waste, white goods, construction debris) and placed at the roadside.
The new deadline for debris pickup on public rights of way throughout the territory is March 7. The changes means contractors who have been picking up storm debris from along V.I. roadways can continue, confident FEMA will pay them for their work.
A week ago, the V.I. Territorial Emergency Management Authority announced the end of debris pick up, with final days of Feb. 7 on St. John and St.Thomas and Feb. 15 on St. Croix.
Some contractors were concerned about the deadline approaching.
"I was concerned if they were not going to do it," Steve DeBlasio of crisis management firm Witt/O'Brien's, said Tuesday. He said there was still a lot of debris awaiting pickup on St. John and if the deadline passed, contractors would not have been able to pick it all up in the single remaining day. DeBlasio raised concerns several days ago over whether the administration was going to request an extension in time.
Extensions are almost automatic, but must be requested, DeBlasio said.