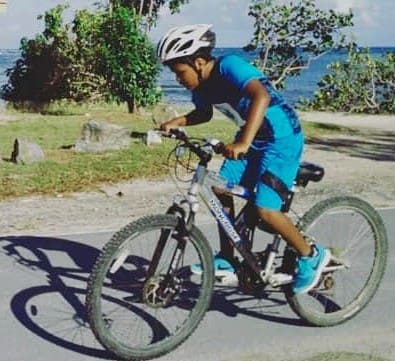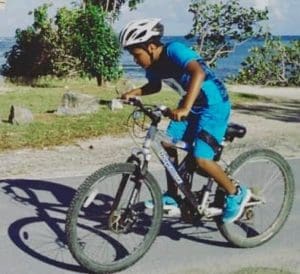 The weather on Feb. 4 was perfect, and the energy of the 31 kids who competed in the Junior Tri VI Duathlon was high. The run/bike/run race was held at Susana Ocasio Santana Park in Gallows Bay. The Junior Tri VI Committee teamed up with Rotary Club of St. Croix Mid-Isle and the Good Hope Country Day School (GHCDS) Interact Club to host the first event of the season, the Rotary Mid-Isle Junior Duathlon. Kids from six different schools participated as well as several home-schooled students.
While waiting for each run/bike/run age category to start, many kids enjoyed face and body painting with race themes, expertly depicted by Interact volunteers. Other competitors danced to the up-beat music and tossed around footballs in true Super Bowl spirit.
The small group of 5 to 6-year-old duathletes was led by newcomer Bjorn Stutzman in 1st place. Henry Collins was the 2nd-place finisher, and one minute separated the 2nd from 3rd place-finisher, Emma D'Amour, who was also the 1st place female. Rock Roberts, in his first-ever race, was the third male. Also competing in their first races were Priscila Sharmouj and Ta'Liyah Popo, who were the 2nd and 3rd place females, respectively.
Teague Gleason finished 5 seconds ahead of Kai Tanguay to capture the gold in the 7-8 division, while completing the .25-mile run, .5 mile-bike and .5-mile run. First-timer Cole Cullinan and Beckett Archambault went head-to-head to cross together in a tie for third place. Diella Maynard was the first female. Serena Sheraw finished just 2 seconds behind Diella; newcomer Aislin Cox was third.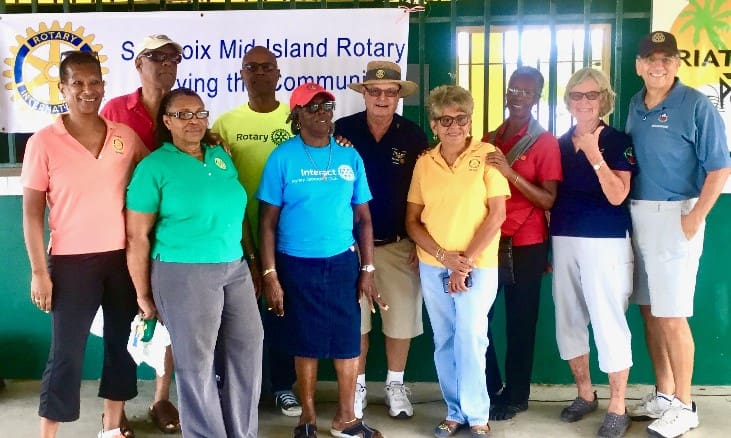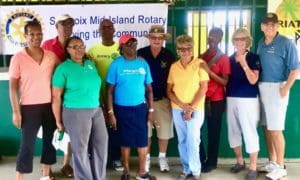 The large group of 9 to 11-year-old duathletes took to the line next for their race, which included a .5-mile run, a 1-mile bike and another .5 -mile run. Kaeden Gleason finished over one minute ahead of classmate Jackson Archambault. Parker Sheraw ran a consistent race and crossed in third place. Kirra Lambert held off Lyla Boyan for the win in the girls' division; Candace Felix followed in 3rd place.
Michael Fitzgerald, new to the sport, was the lone participant in the 12-15 category. Several GHCDS cross country teammates were recruited to help Michael keep pace on his .5-mile run, 2-mile bike and 1-mile run.
All participants were eligible for a raffle drawing after the presentation of the awards, which included sports items and gift certificates to local businesses.
The Junior Tri VI Committee extends its gratitude to the GHCDS Interact volunteers; the Rotary Club of St. Croix Mid-Isle, Virgin Islands Track and Field (VITF) members; the Department of Sports, Parks and Recreation; and Channel 2.
The next Junior Tri VI event, Splash 'n Dash, will be held at 8 a.m., Sunday, April 8, at Chenay Bay.
For more information, contact Theresa at theresa@vitf.org.
February 4, 2018 JUNIOR TRI VI
Rotary Mid-Isle Duathlon
Altona Lagoon Park, St. Croix
5-6 year-olds .25 mile run/.5 mile bike/ .25 mile run — TOTAL
1 Bjorn Stutzman 0:07:53
2 Henry Collins 0:08:19
3 Emma D'Amour 0:09:19
4 Rock Roberts 0:11:01
5 Priscila Sharmouj 0:11:41
6 Ta'Liyah Popo 0:17:48
7-8 year-olds .25-mile run/.5-mile bike/ .5-mile run — TOTAL
1 Teague Gleason — 0:11:17
2 Kai Tanguay — 0:11:22
3 Cole Cullinan — 0:11:36
3 Beckett Archambault — 0:11:36
5 Ian Ainger — 0:12:25
6 Diella Maynard — 0:12:50
7 Serena Sheraw — 0:12:52
8 Aislin Cox — 0:12:58
9 Stephen Gomez Jr. — 0:14:55
10 Cameron Cullinan — 0:14:59
11 Caleb Popo — 0:17:23
Cuyler Roberts DNF
9 to 11 year-olds .5-mile run/1-mile bike/ .5-mile run — TOTAL
1 Kaeden Gleason — 0:12:02
2 Jackson Archambault — 0:13:13
3 Parker Sheraw — 0:14:45
4 Kirra Lambert — 0:14:55
5 Lyla Boyan — 0:15:29
6 Daryan Maynard — 0:15:47
7 Aden Rojas — 0:16:02
8 Candace Felix — 0:16:14
9 Ozzy Odom — 0:16:34
10 Caden Cox — 0:17:57
11 Israel Popo — 0:21:07
12 Aslan Boyan — 0:21:45
12-15 year-olds .5 mile-run/2-mile bike/ 1-mile run — TOTAL
1 Michael Fitzgerald — 0:26:03