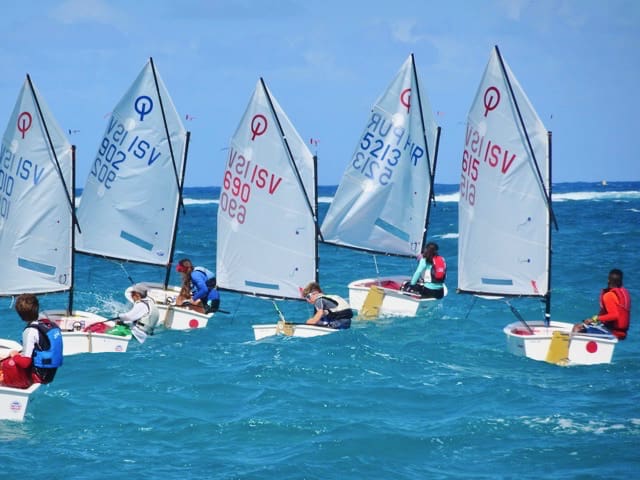 Young sailors from St. Croix, St. Thomas and Puerto Rico took to the waters of Teague Bay Saturday and Sunday in the Crucian Open Regatta: 30 skippered small Optimists boats singlehandedly; 10 sailed the 29ers in teams of two.
With winds at 18 knots and gusts north of 20, the St. Croix Yacht Club race committee held the regatta inside the reef. Under normal circumstances, advanced Optimists and 29ers would compete in the Buck Island Channel. Not this weekend. The Optimist Green Fleet, beginners who always race in Teague Bay, competed even closer to shore this year.
Advanced Optimists and 29ers shared a course, although the 29er raced to a farther mark.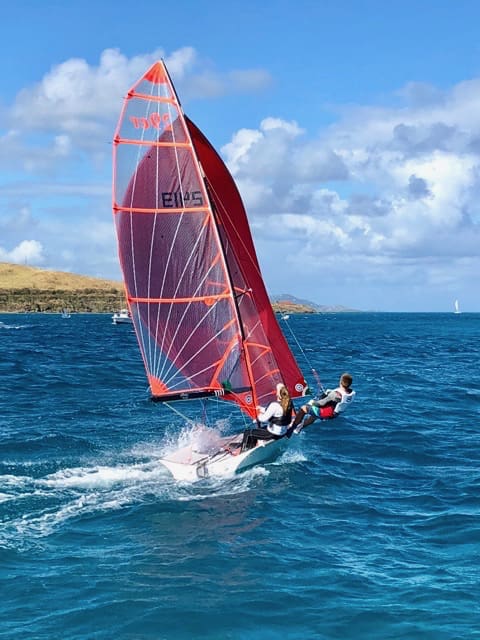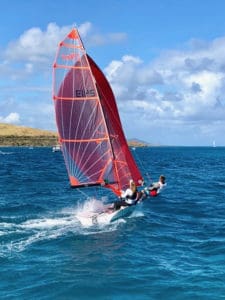 Waves pounded the reef for a dramatic backdrop. Safety boats kept watch for sailors overboard and counted heads. The 29ers are tippy; most capsized at least once.
"The work never ends for a 29er," said Chris Hanley, vice commodore at the St. Croix Yacht Club. Even between races, 29ers are exerting themselves while waiting for the start, he said.
The Crucian Open, a one-design regatta, is the second of three qualifiers for the the 2018 Optimist World Championship in Cyprus, Aug. 27 to Sept.6. All racers had this in mind as they hoisted their sails.
The regatta also serves as a team qualifier for the 2018 Optimist North American Championship in Vallarta, Mexico, June 24 to July1.
Sailing coaches Santiago "Tino" Galan on St. Croix, Austin "Argy" Resano of St. Thomas, and Gabriel Del Campo of Puerto Rico, all on hand on the water, counseled the kids between between races.
Although Hurricanes Irma and Maria interrupted sailing practice, Puerto Rico shone this year among the Optis. St. Thomas took the limelight, too.
Caroline Sibilly of St. Thomas came in third overall and said, "I went to Thailand last year, and I want to go to the Worlds again this year."
Milo Miller ranked top among St. Croix Advanced Optimists and positioned himself well for the starts.
"My strategy was to start at the pin and take a port tack. You get lifted," he said. Like most, Miller holds visions of Cyprus.
As 29ers are few and far between in the Caribbean, Crucians raced against each other. St. Croix, with its fleet of six, has had 29ers for just over a year.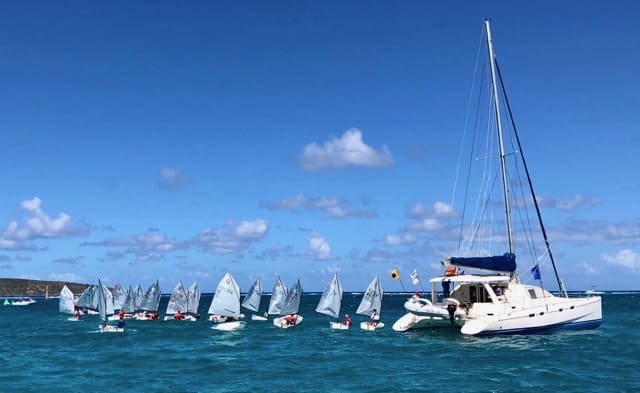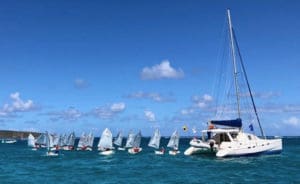 Taylor Hasson and Steven Hardee came in first with Rider Odom and Lake Sanford as their biggest competition.
"Tino had sailed skiffs in Argentina for three years," said Hardee. "So, if he was uncertain about something, he asked his friends back in Argentina."
After the first day of races, Hasson reported that his legs felt like Jello, and Hardee swore he would wear gloves the next day.
Rider Odom and Lake Sanford took second place. They had only sailed together three times before the Crucian Open.
By Sunday, they had discovered how to make the boat sail fast, Odom said. "We got the hang of it today," he said.
There were mishaps among the 29ers: boats capsized in the high winds, asymmetrical spinnakers hooked up, and Lucy Klempen almost went overboard.
"I held on by my legs," Klempen said. Her sister Kate righted the boat in the nick of time, and they sped away.
Some of the young visiting sailors will return for the St. Croix International Regatta, March 9-11. Nine year-old Pablo Mugica, a Green Fleet Optimist from Puerto Rico, is one. He lived on St. Croix until he turned four.
"I really liked playing with all my St. Croix friends," he said of the Crucian Open.
Top Crucian Open Winners:
Advanced Optimists:
First Place – Guillermo Mendez (PR)
Second – Tanner Krygsveld (STT)
Third – Caroline Sibilly
Optimist Green Fleet:
First – Tyler Jones
Second – Coby Fagan (STT)
Third – Elijah LaRose (STX)
29ers:
First – Taylor Hasson and Steven Hardee (STX)
Second – Rider Odom and Lake Sanford (STX)
Third – Lucy and Kate Klempen
Full results are online at The Regatta Network.