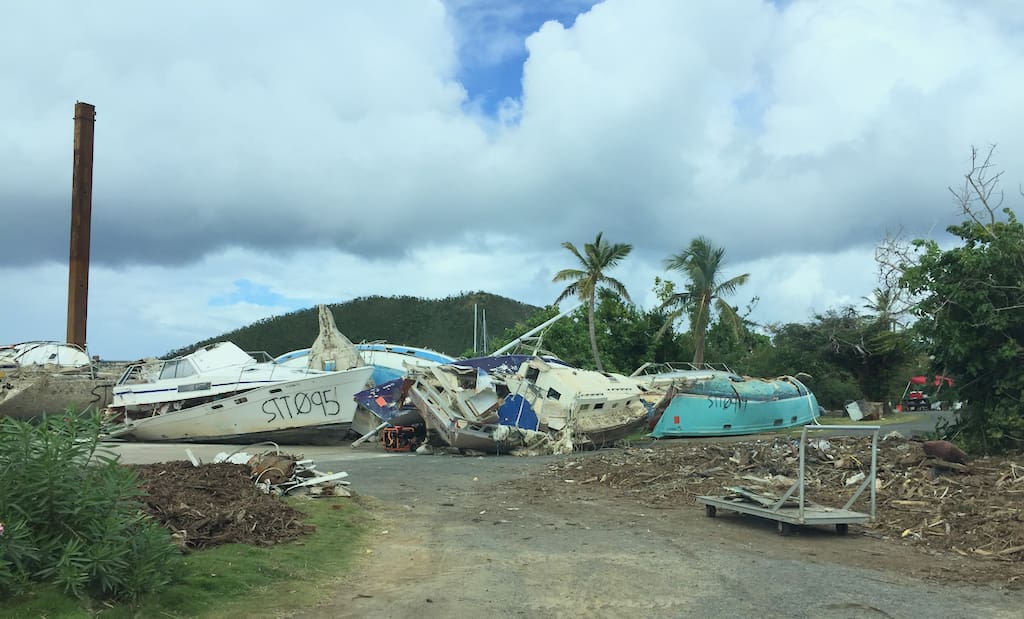 Citizens who live and spend time on the East End of St. Thomas are growing increasingly concerned about how damaged marine debris will be crushed and condensed near their homes and schools before it's sent off island.
Last month the V.I. Department of Planning and Natural Resources (DPNR) issued a news release announcing the Virgin Islands National Park dock and access road in Red Hook would be closed for six months beginning Jan. 13.
DPNR requested to use the National Park Service (NPS) facility as a site for processing and condensing unsalvageable vessels that are being removed from the territory's waters.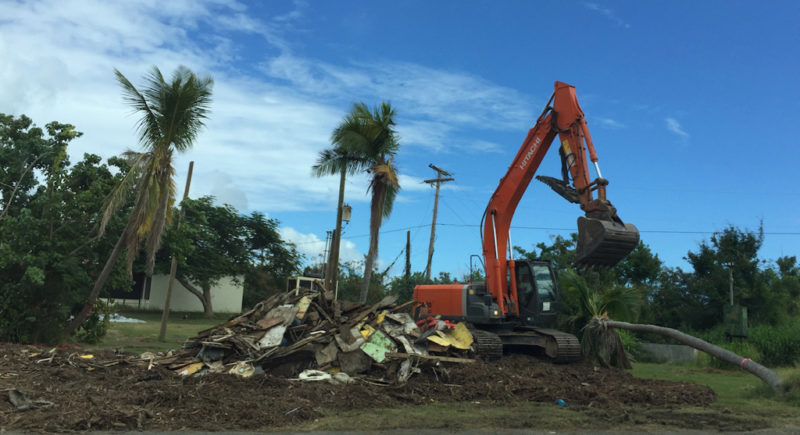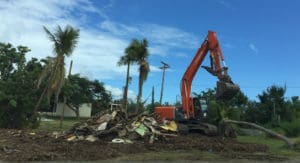 The news release says the project will involve the use of heavy equipment and cranes, and that it will generate hazardous conditions and significant traffic, making the area unsafe for the general public.
But the release lacks information on the potential human health and environmental risks that boat debris processing can entail. Nearby residents and school were not notified either.
According to Howard A. Forbes Sr., director of DPNR environmental enforcement, the marine cleanup and vessel processing is a FEMA mission assignment with representatives from DPNR and the U.S. Coast Guard in command, though all actions are directed by and under the authority of DPNR.
Forbes said Resolve Marine Salvage was awarded a contract for removing 474 vessels from the territory's waters. He added that all non-salvageable vessels were cleaned of potential pollutants before being staged for processing.
"The National Response Center ( NRC) was contracted by the Army Corps to remove all hazardous oils and batteries from the hurricane related vessels," Forbes explained. "Once the vessels are on the barge they are moved to a dry staging area. On St. Thomas that staging area is located at the National Park Service in Red Hook and on St. Croix the staging area is located at the De Chabert beach west of the Seaplane."
Due to space constraints at the territory's landfills, Forbes said the marine debris will be crushed and condensed to a smaller size. It will then bagged and shipped to a designated landfill on the mainland.
Forbes confirmed that Ceres Environmental Service, Inc. is responsible for processing and disposing of the marine debris.
The crushing of marine debris is what's causing local residents and parents who send their children to nearby schools to worry. Inhaling fiberglass and lead – which could very likely be in older boats – can cause serious respiratory issues.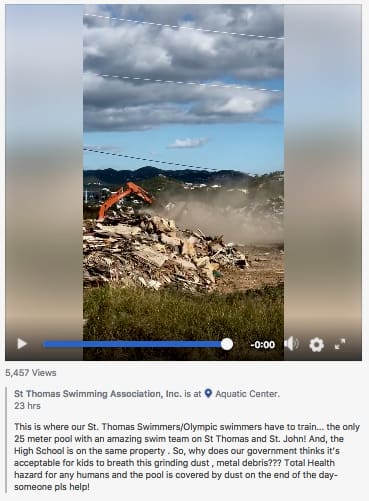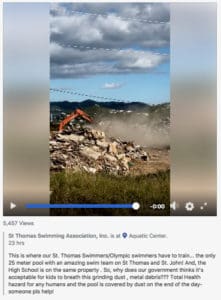 For some St. Thomians, the way other waste sites are being run is also cause for concern. On Wednesday, people swimming at the St. Thomas Swimming Association, Inc. pool complained about inhaling heavy dust at another nearby hurricane debris site that's located between the association's pool and Ivanna Eudora Kean High School.
When asked about potential health risks at the NPS processing site, Forbes said the fiberglass material will be wetted to keep it from dispersing in the air too much. He also mentioned the U.S. Environmental Protection Agency will monitor air quality for potential impacts.
Forbes said there would also be a certified industrial hygienist onsite to "oversee the methods and procedures used for processing the fiberglass with an emphasis on personnel and environmental protection from potential emissions."
"If levels for respirable dust exceed the limits in the EPA Air Monitoring plan, operations creating this hazard on site will immediately cease until further engineering controls are in place to reestablish safe dust levels," Forbes said.
Since the boats are being broken down in the open air near houses on St. Thomas, citizens are concerned if wetting down materials will be effective enough to prevent fiberglass particles from harming human health.
Brooks Hubbard, a public affairs specialist with the U.S. Army Corps of Engineers, said that "Wetting down the fiberglass material during the demolition process is a standard operating procedure that will keep the dust particulates out of the air. In addition, the contractor is required to implement best management practices, as established by USACE and the DPNR, to prevent the infiltration or runoff of any fiberglass particles."
To monitor air quality, Hubbard said the EPA will use a dust tracker to measure particulates and that a base-line reading was taken to determine if the volume of particulates increase during this phase of reduction. Engineered liners will be utilized to prevent any infiltration or runoff into the ground or nearby surface water, he said.
After the fiberglass is condensed, it will be placed in lined roll-off containers and encapsulated for off-island disposal.
Hubbard said that to date the USACE has received a total of 158 vessels from the Coast Guard and DPNR . From that total, 109 vessels have been reduced and are awaiting secondary reduction.