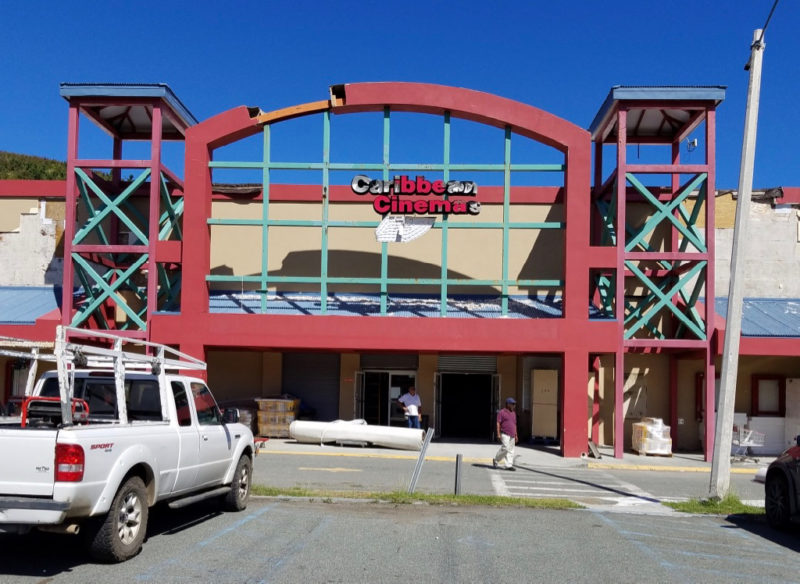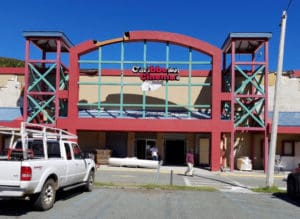 Though no one associated with the renovations at the Caribbean Cinema multiplex theaters at Market Square East on St. Thomas wants to commit to an exact date , it's a safe bet that sometime in February – maybe even next week – residents in dire need of an evening at the movies will find their longing fulfilled.
Carpet was being rolled out and cut in the parking lot on Wednesday morning and a mysterious tall plywood shipping crate was lined up next to construction materials under the marquis outside the open doors of the previously shuttered multiplex theater.
"That's one of the kiosks," said Ross Astrachan, director of expansion and development for Caribbean Cinemas, referring to the crate.
The kiosk heralds the coming of age of on-line ticketing for the seven-plex theaters that opened originally in 2001. Theatergoers will be able to purchase their tickets on line and access them at one of the kiosks that will stand in the lobby.
"We know that people don't like standing in line," Astrachan said, so the aim of the redesign – which also includes a larger ticket booth to house extra ticket sellers – to alleviate the congestion.
But that's just the beginning. Three of the seven theaters will have stadium seating, all will have brand new rocking recliner type chairs and, patrons will be able to choose their seats in advance when buying their tickets. Reserved seating has popped up in theaters across the country over the last few years, and it's popular.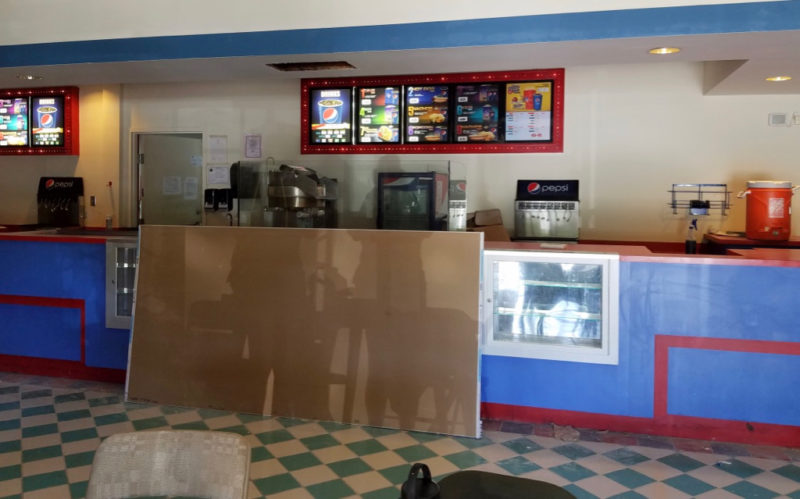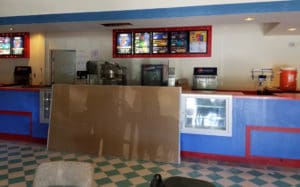 Astrachan acknowledges it will take some getting used to on the island.
"There will be a learning curve," he said.
Astrachan said they are shooting for next Thursday or Friday, Feb. 8 or 9, for the opening.
Still to come will be expanded food service (a kitchen is being built) and new games.
With many people champing at the bit to be passively entertained after months without television, movies or live events, it is not hard to understand why no one wants to commit to a firm date. But Astrachan seemed confident that the company would come close to meeting the goal of Feb. 7. The Caribbean Cinemas website declares in full screen splendor with a touch of popcorn for good marketing, "Grand Opening February 2018″
One of the items Astrachan said they are waiting for from the landlords is parking lot lighting.
"But we will put up our own temporary lights if we have to in order to get the theaters open."
The theaters were severely damaged by hurricanes Maria and Irma, The seats, carpeting, screens and curtains had to be torn down. However, thanks to dedicated and forward-thinking staff members who covered the projection equipment with plastic before leaving the theaters to the winds, that equipment is "in good working order," Astrachan verified.
"We needed to replace a few speakers, but the projection and sound system is fine."
Regardless of the seating or the exact date, activity at Market Square suggests that life on St. Thomas and St. John will become more normalized soon when residents can enjoy some popcorn and a movie outside of their own living rooms.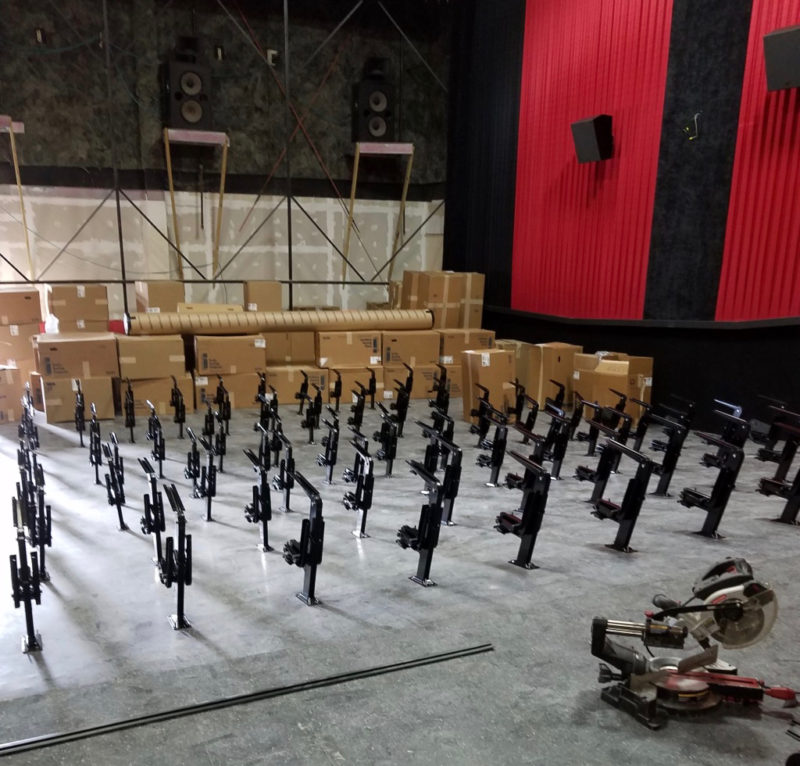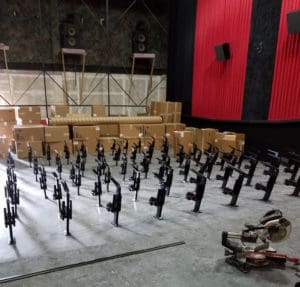 The theaters on St. Croix, also owned by Caribbean Cinemas since last April, have been open since mere days after Hurricane Maria abandoned the territory for Puerto Rico, which is exactly where Caribbean Cinemas has its headquarters. Of St. Croix, .Astrachan said the theaters are "independent of WAPA." They are solar powered with back-up generators.
The St. Thomas theaters also boasted some solar panels, but they were blown away. Astrachan said many of the company's theaters across the Caribbean also are solar powered.
"It saves money, but mostly it is what's best for the environment."
For those without their movie fix for going on five months, the reopening promises some good old fashioned entertainment to take minds off the roads that are obstacle courses, hearts that are aching for the friends that have left, the abandoned Cost-U-Less building at the other end of the parking lot and a general mourning for what has been lost, if only for those magical 90 or so minutes.
Check St. Croix Source to see what's playing now and watch St. Thomas and St. John Source for the movie lineup and definite opening date as soon as it becomes available.
As part of the opening week schedule, Caribbean Cinemas plans to offer new releases such as "Fifty Shades Freed," "The Shape Of Water," (which leads the Oscar race with 13 nominations,) "Maze Runner", "12 Strong" and "The Commuter," as well as "Star Wars: The Last Jedi", "Jumanji," "Coco," "Justice League" and "Thor," some of 2017's biggest releases, which marketing director Noelia Alsina said have been "highly requested by our clients in social media."
The planned schedule is subject to change, Alsina noted, and the final schedule should be ready one or two days before the release.