The St. Croix Educational Complex (SCEC) Barracudas Football Team came out fully charged, and with family, friends, classmates, faculty and staff members loudly cheering on their side, they were all geared up to demolish the Charlotte Amalie High School (CAHS) Hawks, who had flown in from 40 miles across the sea for a friendly meet.
But the Hawks didn't brave the foul weather, the strong winds and intermittent showers in flight for nothing. They had their own goals intact. During the early quarter of the tense and exciting game, the Barracudas quickly scored the first goal, earning 6 points but losing the 2 safety points. Surprised by the aggressive start of the SCEC team, the CAHS Hawks got very serious on the offensive, and by the 2nd quarter they had scored 22 points while the Barracudas scored another 6 points, giving them 12.
The game progressed, but only the Hawks scored: 30, 36, 42 and then 44 points compared to the Barracudas 12 points at the end of the match. The flying Hawks kept the unstoppable, seafaring Barracudas at bay.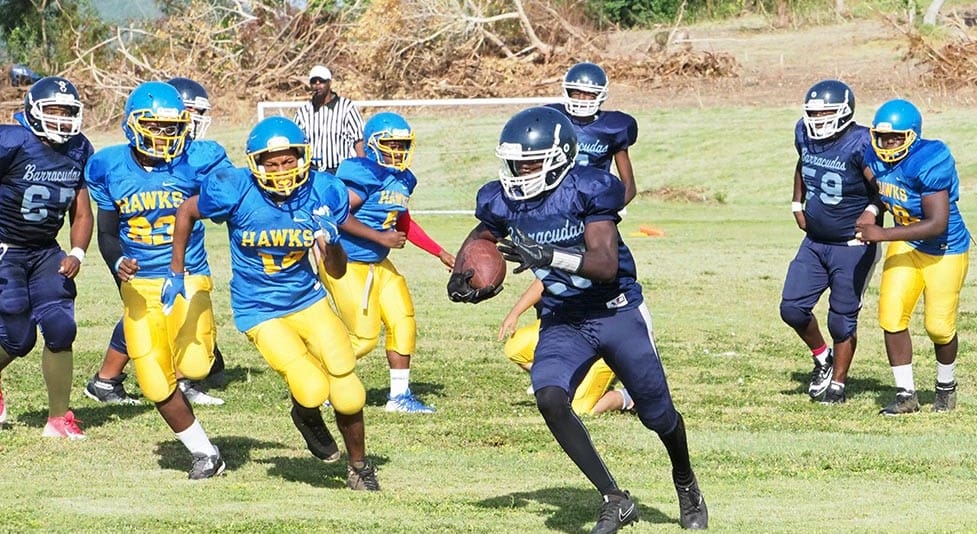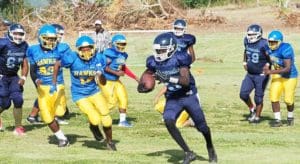 They proved no match for the soaring Hawks, who comfortably captured the Virgin Islands Football Championship by 44 to 12, on Sunday, Jan. 28, at the University of the Virgin Islands field, St. Croix.
Before celebrating and refreshing themselves with fruits, snacks and fluids, all members of the Barracudas and Hawk entourages greeted each other, shaking hands and hugging in some instances, as they passed by. The two teams then posed for photos together.
"They scored first; they jumped on us. We were not aggressive, but we got our act together," said CAHS Coach Irving Beazer. "They are a very well coached team," he said.
SCEC Barracudas Coach Sgt. Malik Carlos, gathering with his troop after the game, pointed out their errors, but he praised them for their impressive efforts. "Some of you came out of the game mentally," he began. "You beat yourselves." But then Sgt. Carlos, before identifying and praising players for executing good plays, added, "We came together as a team. We found players who had never played before. We had to reform equipment. You have learned everything you should be learning. We went from nothing to this – we did win two games straight," the Barracudas new coach said.
The Virgin Islands Scholastic Football League started in December 2017. Along with the CAHS and SCEC teams, the St. Croix Central High School Caribs and the Ivanna Eudora Kean High School Rays participated in the league.