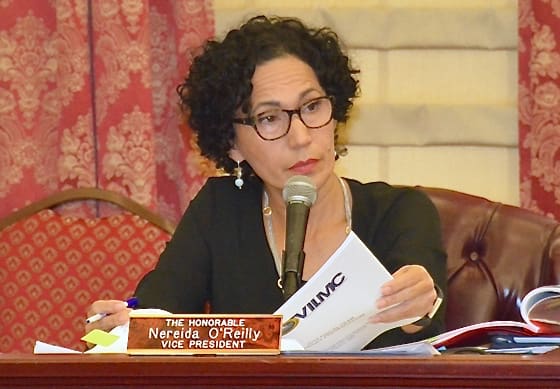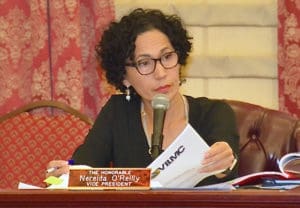 The first portion of a bill to strengthen protections of animal health and welfare in the territory found no objections among members of the 32nd Legislature's Committee on Health, Hospitals and Human Services Wednesday.
The bill (No. 32-0026) was split into two at the request of stakeholders due to its length and scope. Only the first section, which deals with the licensure and regulation of veterinary medicine, was considered at Wednesday's committee hearing.
A second section of the bill that deals mainly with regulating conditions at animal shelters, pet shops and groomers will be considered by senators at a future hearing.
The bill's sponsor, Sen. Nereida Rivera O'Reilly, explained that its first section is primarily designed to strengthen and clarify law that directs the territory's veterinary licensure board. That portion of the V.I. code has not been updated since 1971.
If passed, the bill would reconstitute the board as a seven-member appointed body comprised of veterinarians, veterinary technicians, and representatives from animal care non-profits. The board's duties would be expanded to include: setting standards for veterinarians' continuing education, licensing of veterinary technicians in addition to veterinarians, and inspection of animal care clinics and centers.
Testifiers from the current veterinary board, the Department of Health and the Department of Agriculture, who would have new mandates under the bill, spoke in support of it on Wednesday.
Laura Palminteri, president of the V.I. Board of Veterinary Medicine, said mandating continuing education for vets, and the recognition that technicians and assistants in veterinary clinics also should be licensed, are in line with industry best practices. Neither are part of current V.I. law.
"Obviously there have been many advances and changes in veterinary medicine in the past 47 years. This bill will bring the profession of veterinary medicine in the territory up to modern national standards," she said.
Bethany Bradford, director of veterinary services for the V.I. Department of Agriculture, called the legislation "a vast improvement over current law," but added that the veterinary board in its new form would need added support.
"With the additional responsibilities of the board in this bill, such as inspecting animal hospitals and overseeing veterinary technician positions, the board will require adequate administrative staff," Bradford said.
Although Bill 32-0026 directs the V.I. Department of Health to fund and support the board's added duties, it does not identify new funding sources at a time when the V.I. government is looking at a budget shortfall in the hundreds of millions of dollars, even with approved federal disaster loans.
Even before Hurricanes Irma and Maria brought added stresses to the territory's already dire financial state, the territory's medical licensure boards, 10 in all, reported difficulty fulfilling their mandates.
At a hearing in July 2017, representatives of the territory's medical licensure boards told senators that many of the boards lack enforcement ability, and new members are hard to come by due partly to the territory's small pool of specialists and partly to membership being a demanding volunteer position. (See "Senators Discuss Streamlining Medical Licensure Boards" in Related Links, below.)
It is unclear how a revamped veterinary licensure board with new responsibilities would avoid the same obstacles.
Bradford added that a noble attempt in the bill to impose a duty on licensed veterinarians to report suspected cases of animal cruelty, and to protect them in doing so, would end up being largely symbolic without increased consequences for animal abusers.
"Veterinarians can report animal welfare issues all day long, but if we do not have the infrastructure, the sensitivity and support of the police department, the Department of Justice, the courts and the community, then it will go nowhere," she said.
"Despite the well-recognized fact that animal abuse goes hand in hand with community and domestic violence and abuse, animal welfare remains a low priority," Bradford added.
The Virgin Islands Police Department has only one detective on staff tasked with investigating animal cruelty, Daniel Rodriguez on St. Croix. Rodriguez has no counterpart in the St. Thomas-St.John district. Since 2015, four felony arrests have been made in the V.I. for animal cruelty.
Despite questions about enforcement, testifiers and senators all spoke affirmatively about the need to reform animal welfare laws in the territory.
Also testifying Wednesday were Commissioner of Agriculture Carlos Robles, president of Lucky Paws Foundation Dellia Holodenschi, and Nicole Syms, deputy commissioner for public health services at the Department of Health.
Committee members unanimously voted to send Bill No. 32-0026 on to the Committee on Rules and Judiciary for further consideration. Senators present included O'Reilly, Marvin Blyden, Dwayne DeGraff, Novelle Francis Jr., Janette Millin Young, Sammuel Sanes, and Kurt Vialet.
At the close of Wednesday's hearing the committee also voted to issue a subpoena to summon Commissioner of Human Services Felicia Blyden to a Feb. 8 committee meeting. Sanes made the motion, which DeGraff, Francis, O'Reilly, and Millin Young voted in favor of. Vialet and Sen. Blyden were absent for the vote.