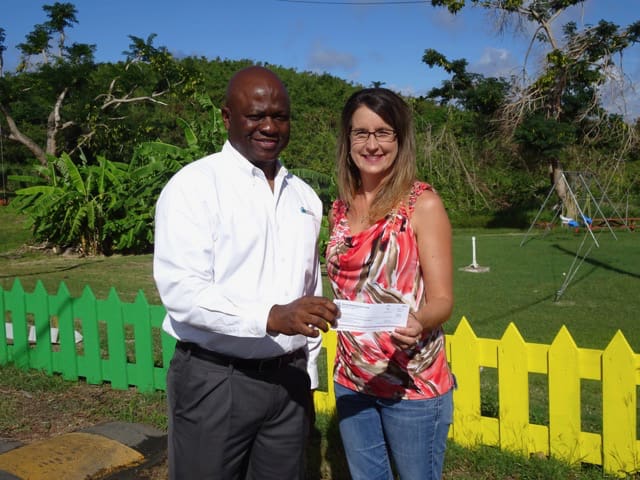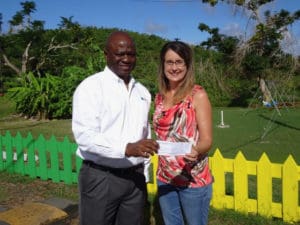 Luis Sylvester, executive account manager at Molina Medicaid Solutions, presented a $1,000 check to Queen Louise Home for Children on Friday.
"In light of the hurricane, we wanted to make a contribution to this community organization," said Sylvester, handing the donation to Dana Holtz, director at Queen Louise Home in Frederiksted.
"Molina believes in giving back to the communities where we do business," Sylvester said.
Last August, Sylvester orchestrated a gift of New Balance shoes: every child at Queen Louise Home got a new pair of sneakers for the holiday season.
Molina Medicaid Solutions, a contractor with the USVI Department of Human Services since 2012, processes Medicaid claims for medical assistance programs in the Virgin Islands. It is a subsidiary of Molina Healthcare, a multi-state operation that provides quality health care to people receiving government assistance.
"You have no idea how much this will help us," Holtz said.
Holtz stayed with the children at Queen Louise throughout Hurricane Maria; she arrived at work the morning of Sept. 19, the day the Maria hit, and stayed until 5 p.m. the following Friday.
At one point during the storm, the kitchen skylight blew out. Holtz and her staff quickly herded the children into the library. As water poured into the kitchen nonstop, Holtz hoped an iguana would not fall through the hole, too, she said. (The facility was spared a drop-in iguana.)
"These funds are really helpful because we needed extra staff to provide structure, activities, and reassurance to the children," said Holtz.
Expressing her gratitude, Holtz recounted the children's mindset after the storm.
"The kids wondered if they would have occasions like Halloween or Christmas."
As it turned out, Queen Louise Home for Children put up an elegant 2017 Christmas tree. Molina employee Sherriffa Ahamad personally funded the tree that Holtz and her husband bought in Gallows Bay.
Friday's donation will go toward operating costs.
"We are a social services agency, so our biggest needs will always be covering operating costs to provide care and love to the children," said Sigorney Dorsey, public relations and development coordinator with Lutheran Social Services V.I.
Queen Louise Home is the home for 26 people, ages two through 32. This includes adults with severe cognitive or physical impairments, according to Holtz.
The largest private child and family services agency in the Virgin Islands, Queen Louise Home for Children is a Lutheran Social Services program. Abused, neglected, and displaced children, along with those in need of respite care, come to Queen Louise through the Department of Human Services. The facility is a 24-hour foster care residence.