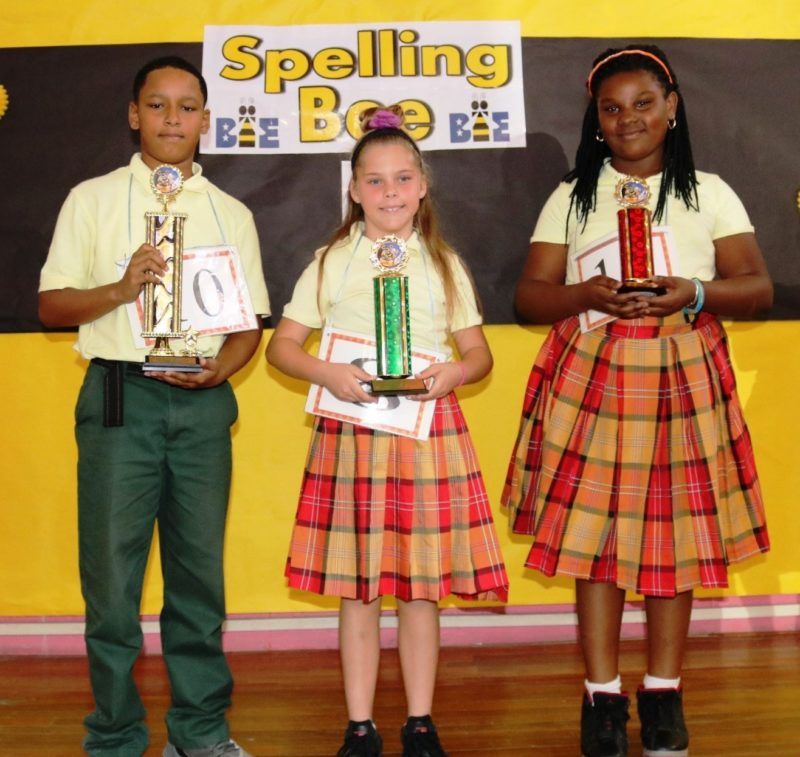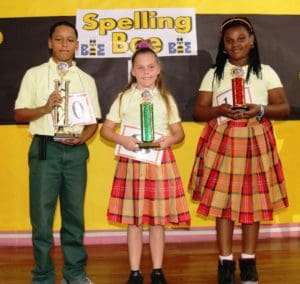 Eleven-year-old Ronaldo Florent, a 6th grader at the Pearl B. Larsen Elementary School, confidently captured his school's 2018 Spelling Bee on Thursday, Jan. 18, outlasting 17 other competitors in grades 3rd to 6th, including two of his classmates.
During the last rounds of the spelling contest, Florent went head-on with the 1st and 2nd place contestants — spelling "receptions," "spinster" correctly – but misspelling "slobbery," leaving out the "e" and "r" in the word. Recuperating, he, without hesitation, demonstrated his prowess by correctly spelling "energetic," paving the way for his championship.
The contest went on for several rounds for first and second place runners-up. During the battle, the first-runner up, 10-year-old 5th grader Jadah Kodran, received cheers from the audience for spelling "breakfast" correctly but was stumped by "grocery," skipping the "o" and "r" in the word. Second place runner-up, 9-year-old 4th grader Makayla Maillard, elicited loud applause by correctly spelling "diagram" but misspelling "valuables" and "enlisted" on her next opportunities.
Other spellers in Larsen Elementary's Spelling Bee were Miracle Richards, 5th grade; Jeremiah Kodran, 5th; Jayden Perez, 4th; Kalyla Mounsey, 4th; Shawn H. Skepple, 6th; J'Nairah Bryan, 3rd; Miguelina Ortiz, 4th; Isolde Diaz, 4th; Janisa C. Boulogne, 5th; Lorena Abreu, 4th; Israel Popo, 4th; Rashaad Titus, 6th; Carsen Kean, 4th; Zyahn Plante, 5th; and Kaela Vialet of the 4th grade.
First, second and third place winners received trophies for their efforts. was also presented a gift certificate courtesy of Office Max. Kodran and Maillard received puzzle kits and word puzzle books for their 2nd and 3rd place finish. Each participant received mechanical pencils, pens, emoji erasers, bag of sweets, pencil grips, glue sticks and a certificate signed by the school's administrative staff.
Ronaldo Florent and other spelling bee winners in the District, to include elementary and middle school spelling champs from public, private and parochial schools, will compete for the St. Croix Spelling Bee Championship set for 1 p.m., Tuesday, Feb. 27, at the Juanita Gardine School auditorium.
Members of Larsen Elementary School faculty and staff produced the spelling bee event to the satisfaction of the students, parents and other community supporters in the audience. Veronica Sargeant and Debara Lea Sealey coached the spellers and coordinated the competition.