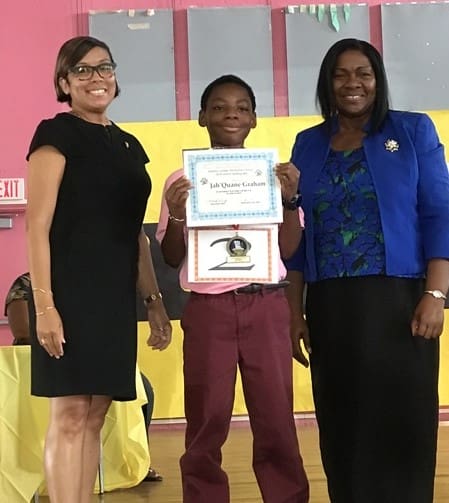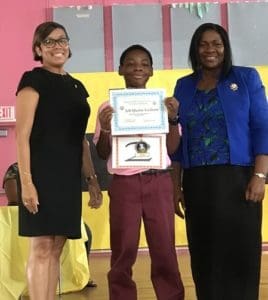 The Juanita Gardine Elementary School Spelling Bee was held Wednesday, Jan. 17, in the school auditorium. Finalists from the 3rd to 6th grade levels battled for several rounds. Things were tense as the 3rd to 5th grade spellers made a good showing, but at the end of the spelling contest the three top finishers were all 6th grade students from Antonia Bailey's class.
The second runner-up in the school's Spelling Bee is Ishmael Greenidge; first runner-up is Ameer Norman; Gardine's 2018 Spelling Bee Champion is JahQuane Graham. Principal Barbara McGregor and Assistant Principal Ann Marie Gordon praised the spellers for their diligence in study, particularly the three top finishers. The school's administration also commended school librarian Janice Ferdinand for organizing the bee, prepping students and presenting an excellent showcase of student talent.
Winners received trophies, and all participants were awarded certificates and prizes for their spelling efforts.
JahQuane Graham and other school bee winners in the district, who included elementary and middle school spelling champs from public, private and parochial schools, will compete for the St. Croix Spelling Bee Championship set for 1 p.m., Tuesday, Feb. 27, at the Juanita Gardine School auditorium.