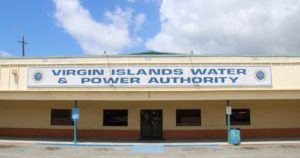 The V.I. Water and Power Authority approved contract increases for hurricane restoration work and with APR Energy for leased generators, totaling around half a million dollars, during a regularly scheduled meeting Thurday on St. Thomas.
The board approved increasing contract totals to $500,000 for the following companies involved in hurricane debris removal and clean-up in both districts: Thomas Trucking, Frank's Electric, Marco St. Croix, Z and I Builders, Global Marine, Eric's Construction, Fiber Net, Inc. and Fabien's Trucking, according to a statement from WAPA.
Other hurricane-related items approved include:
– An amendment to an existing contract with Kami Metals to provide debris disposal services on St. Thomas and St. John. The contract has a $2 million limit.
– A contract with Haugland Energy for a territory-wide clean-up and off-island disposal of WAPA's equipment damaged in the hurricanes, and debris generated during the restoration process. The contract remains in effect until March 15, and cannot exceed $39 million.
– A purchase order with Electric Supply of Tampa for hurricane restoration materials totaling $245,532.
– An authorization for the restoration of WAPA's field area network for both Automated Metering Infrastructure and other critical operations, at $1.7 million.
– $2.3 million to buy replacement smart meters. Several thousand smart meters were either destroyed in the hurricanes or have malfunctioned since being reinstalled.
– A contract extension with Native Son and Taxi Tours to provide transportation for off island line crews. The new contract total is $400,000 through the end of February.
– A contract extension with Chitolie Trucking through March 15, with a cost increase of almost $200,000 for a new total of $400,000. The company is providing on-site fueling services for restoration equipment at various staging sites across St. Croix. The original contract cost was $213,500.
– Additional space at Port of Sale Mall to better accommodate the Customer Service office and other operational areas displaced by the hurricanes. Aside from Customer Service, the additional space will provide an office setting for four other divisions of the Authority. The monthly rent for the additional space is $10,037.50.
WAPA officials say they expect the Federal Emergency Management Agency to reimbursed the costs associated with the hurricane restoration and clean up.
In other action, the governing board approved:
– A contract extension for Sulzer Turbo for continued work on St. Thomas Unit 23. The restoration from Hurricanes Irma and Maria and the effect of Hurricane Harvey in Houston, Texas where the contractor, Sulzer Turbo Services is based, required the extension of time. Sulzer Turbo is on contract with WAPA to restore the 39-megawatt unit back to manufacturer's specifications and complete a major maintenance overhaul of the unit. In addition to the contract extension, the board approved a 15 percent contingency fee to cover any unplanned costs associated with the reassembly and inspection of the unit. The overall contract with Sulzer Turbo totals $4.1 million.
Members also approved contract changes with APR Energy for generating units rented from the company. The rental of Unit 25 will be extended through April 1 at a cost of $340,000 per month. Unit 26's rental agreement will be adjusted waiving a variable fired hour charge until the unit is commissioned on LPG. A third contract change with APR Energy increases the cost by $236,450 to allow for the preservation of a WAPA turbine unit during its decommissioning and to provide for the electrical connection of the third rental unit, Unit 27, from APR Energy.
Board members present were: Chairwoman Elizabeth Armstrong, Vice Chairman Noel Loftus, Secretary Juanita Young, Licensing and Consumer Affairs Commissioner Devin Carrington, Internal Revenue Bureau Director Marvin Pickering, Cheryl Boynes Jackson, Hubert Turnbull and Gerald Groner. Acting Public Works Commissioner Nelson Petty was absent.