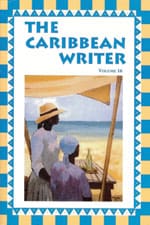 The Caribbean Writer has announced its Top Ten Recommended Reading List for 2018. The titles whose publication dates range from 2014 to 2017 were chosen, not based on their release dates but for their grit and pluck.
"So many books capture our imagination," said Alscess Lewis Brown, editor of The Caribbean Writer. "But these works, while they may be intense, are thoroughly engaging and deeply insightful in terms of the way they resonate with the Caribbean experience. Must reads, really!"
Cynthia McLeod. "The Cost of Sugar." London: Hope Road Publishing, 2017," 296 pages.
Hilary McD. Beckles. "The First Black Slave Society: Britain's 'Barbarity Time' in Barbados." 1636 – 1876. University of the West Indies Press, 2016, 296 pages
Jason Frydman. "Sounding the Break African American and Caribbean Routes of World Literature." Charlottesville: University of Virginia Press, 2014,184 pages.
Jeannine Murray-Román. "Performance and Personhood in Caribbean Literature: From Alexis to the Digital Age." Charlottesville: University of Virginia Press 2016, 244 pages.
Kwame Dawes. "A City of Bones: A Testament." Northwestern University Press, 2017, 230 pages.
Prashad Vijay. "The Poorer Nations: A Possible History of the Global South. Brooklyn, N.Y." Verso, 2014, 316 pages.
Roxana Nydia Curto. "Intertech(s): Colonialism and the Question of Technology in Francophone Literature." Charlottesville: University of Virginia Press, 2016, 264 pages
Shara McCallum. "Mad Woman." Peepal Tree Press, 2017, 80 pages
St. Pierre Maurice. "Eric Williams and the Anti-Colonial Tradition." Charlottesville VA." University of Virginia, 2015, 254 pages.
Wendy Grenade. "The Grenada Revolution: Reflections and Lessons." Jackson: University Press of Mississippi, 2015, 284 pages.