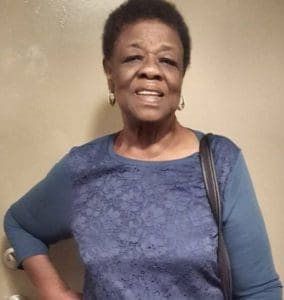 Cynthia Thomas of Hannah's Rest, Frederiksted, died on Sunday January 14. She was 78 years old.
She is survived by her husband, Patterson Thomas; daughters: Paula Blake, Debra DeBique, Elina and Anna Thomas; sons: Thaddeus and Kenrick Thomas; grandchildren: Lenisha Jacobs, Deyondra DeBique, Shakeira Thomas, Brianna Liburd, Brittney Liburd, Rashema Mardenborough, Natasha Browne, Latishma Thomas, Rashan Thomas, Thddeus Thomas Jr., Akim Thomas, Rasheed Thomas, Niakim Thomas, Kenneth Blake, Raheem Thomas, Jeremiah DeBique and Sherriff; and great grandchildren: Kazia Preston, Amir Thomas, Ayden Thomas, Mahki Vance, Kyrie Patterson and Amaharic Thomas.
She is also survived by sisters: Ellen Moses Lord, Lydia Moses Joseph and Janet Moses Bruno; brothers: Philbert Lord, Winston Phillip and Daniel Moses; nieces: Patricia Lord, Paula Lord, Lorna Rose, Laverne Lord, Miranda Teesfford, Pearlyn Joseph, Dale Lord, Jennifer Lord, Sandra Phillip, Sonia Phillip, Alaisha Phillip, Abigail Moses, Niki Bruno and Shenika Bruno; nephews: Terrance Lord, Presley Joseph, Leroy Joseph, Devral Mosses, Devan Moses, Christopher Phillip, Kevin Lord, Junior Moses and Kelly Moses; daughter-in-law, Ruth Mardenborough; and son-in-law, Edgerton DeBique,
Other survivors include brothers-in-law: Emmanuel Lord, Joseph Thomas, Anthony Thomas and Wayne Bruno; friends: Brenda Christian ("My doo doo"), Mark Daniel (spiritual son), Euralis Rene, Jeanette John, Ana Berkitt, Virginia Shaw, Ann Marie St. Ange (my spiritual daughter), Yvonne and Joseph Greenaway; other relatives: Frederiksted Assembly of God Church family and loving neighbors, as well as other relatives and friends too numerous to mention.
The viewing will take place at 9 a.m. and the funeral service will take place at 10 a.m., Friday, Jan. 26, at Island Baptist Church (Frederiksted). Interment will follow at Kingshill Cemetery.