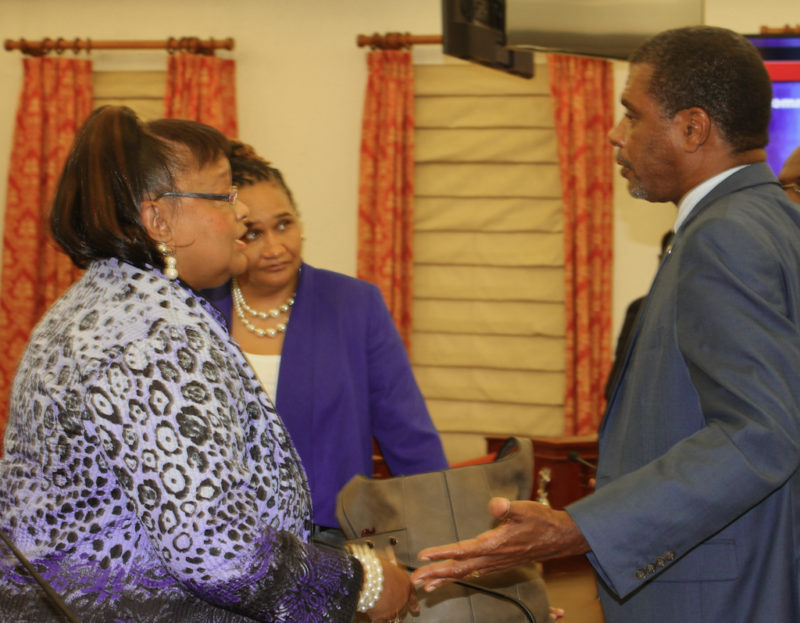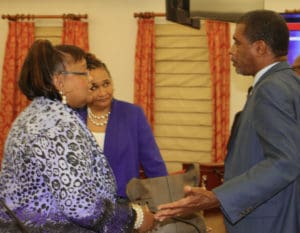 Not only do V.I. public schools face a shortage of both teachers support staff, but education officials told the Senate Committee on Education, Youth and Recreation on Wednesday that it will take a small miracle to get modular classrooms in the territories by the time schools open next year.
The lack of modular replacements for classrooms destroyed in September's hurricanes means it will be difficult to get students back to a full day of school next year.
That news did not sit well with lawmakers.
"We can't have it; double sessions are out." said Sen. Neville A. James. James said that he went through school during a time of split sessions and it hurt his education. He flunked one year.
Sharon McCollum, commissioner, of the Department of Education, said the purchase order for the classrooms would take six months to get through the department of Property and Procurement and that it would take another six months to get the classrooms after the order was placed. She said she expected to get approval from FEMA to place the order at the end of this week. The start of next school year is eight months away.
Sen. Jean Forde, chairman of the committee, along with other senators, urged McCollum to expedite the process.
"At the rate we're going, we're going to have double sessions next year," said Kurt Vialet, a former school principal.
Senators were also concerned about the timeliness of the work being done by the department to recover from the hurricanes. Any work to get full reimbursement from the federal government has to be done by mid March.
"The most significant challenge the department is facing across the territory is scarcity of materials and architectural and engineering contractors; roof damage continues to allow moisture into the schools facilitating the exacerbated growth of mold," McCollum testified.
She said enrollment had declined by 2,300 from the previous year, and the department also lost 60 staff members – 17 teachers from the St. Thomas/St. John district and 13 from the St. Croix district. The remaining 30 were support staff.
The department is relying on a substitute pool of 150 individuals, she said.
Retaining employees has become increasingly challenging, according to McCollum, as the cost of living is not commensurate with the current salaries offered to teachers.
The department has a total of 137 vacancies; 47 in the St. Croix district and 90 in the St. Thomas/St. John district. There is also a critical need for nurses.
Carol Callwood, president of the American Federation of Teachers Local 1825, also spoke up for the teachers. She said, since the hurricanes, teachers have been plagued with uncertainty – uncertainty about the school calendar, final repairs to classrooms, arrival of modular classrooms and status of contract negotiations.
Rosa Soto-Thomas, president, AFT Local 1826, the district's salaries give no incentive for anyone to go into teaching.
"We are being paid 2010-2011 salary schedules in 2018. The starting salary for a teacher is $32,000. Why would prospective college students want to major in education with such a dismal salary awaiting them?" she asked.
According to McCollum, 11 schools have been closed in the territory; seven schools in the St. Croix district – Lew Muckel, Pearl B. Larsen, Eulalie Rivera, Arthur A. Richards, Elena Christian, John H. Woodson and Alexander Henderson; and four schools in the St. Thomas/St. John District – Addelita Cancryn Junior High School, Benjamin Oliver Elementary School, Guy Benjamin Community Center and Gladys Abraham Elementary School.
Sens. Myron Jackson, Novelle Francis and Vialet expressed concerns about equipment and supplies not being secured after the hurricanes and much being lost to looters. McCollum said requests were made to the V. I. Police Department and the National Guard, but no manpower was available to be stationed at the schools.
Vialet asked when St. Croix's two high schools could get off generator power and back onto Water and Power Authority power. Anthony Thomas, chief of staff at the department of education, said the delay for hooking back up was because of destroyed transformers. He said because of the many disasters across the states, the transformers the schools needed were hard to obtain.Sen. Janelle Sarauw was upset with some of McCollum's testimony.
"Your behavior is unconscionable. You can not continue to come before this body with your attitude," Sarauw said.
Senators present were Forde, Brian Smith, Tregenza Roach, Marvin Blyden, Francis, Marvin Blyden, Vialet, James, Jackson, Dwayne DeGraff and Sarauw.