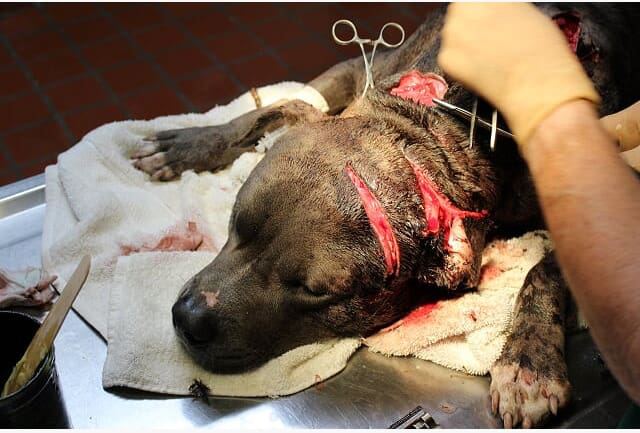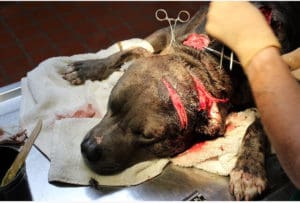 The V.I. Police Department is seeking a suspect in the machete attack that sent a pit bill to the veterinarian, badly injured but alive.
According to a news release issued Wednesday by the VIPD, an animal cruelty investigator was dispatched at 1 p.m. Friday to the Frederiksted Animal Clinic. There, he was told that the pit bull had been brought in by its owner brought in by its owner after it was discovered with what appeared to be lacerations from a machete.
Base on preliminary investigation, the dog's owner – who resides in the Estate Strawberry Hill area – said that on the previous day he returned from work at around 6:30 p.m. and noticed that one of his dogs was missing and that the collar was still attached to the chain where he was tied.
The owner searched for his dog around the neighborhood but did not find it.
The owner gave up the search went home, where he discovered that his dog had returned bearing several severe lacerations about the body. The man rushed the animal to the Frederiksted Animal Clinic.
At the clinic, a veterinary technician confirmed that the injuries the dog sustained were not from a dog fight but from a large blade or machete. The dog had at least 12 lacerations to the neck, head and back area.
It is believed that the dog, a Blue Nose Pit Bull, was badly beaten Friday morning in the Estate Strawberry Hill and Sunny Acres area.
This case is classified as an first-degree animal abuse.
Police urged anyone with information about the case to contact 911 or submit an anonymous tip to Crime Stoppers USVI at 1-800-222-8477 or online at www.p3tips.com.