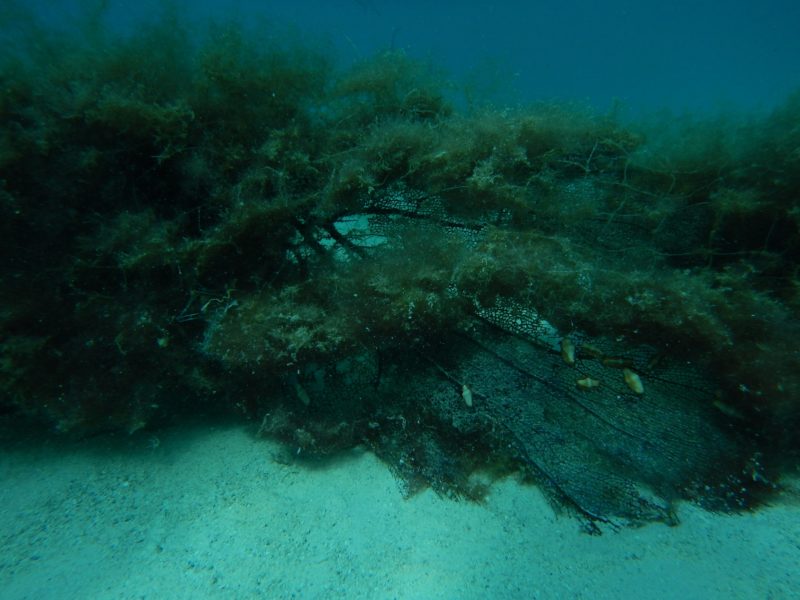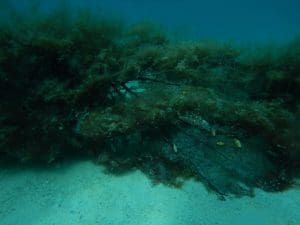 While swimming, UVI marine advisor Marcia Taylor saw an abandoned net filled with marine creatures. She initiated a rescue dive with the help of a local dive shop. Knowing that Michelle Pugh, owner of the shop, Dive Experience, is a strong supporter of marine conservation, Taylor asked her to help, and Pugh quickly agreed.
Abandoned nets are a problem because of "ghost fishing" — they continue to catch sea life long after fishers lose them. Although largely on the bottom, these nets ensnare bottom creatures. The net was filled with live sea eggs, conch, sea fans, other invertebrates and even a live nurse shark. The nets often continue to catch sea creatures for months or even years after lost. The Food and Agriculture Organization of the United Nations estimates that ghost fishing ensnares and kills tens of thousands of marine creatures including fish, crustaceans, marine mammals, invertebrates and turtles, every year.
The Dive Experience boat with several staff members, Taylor and volunteers armed with knives, quickly freed the shark (alive), sea urchins, conch and many invertebrates. The 100-meter gill net, as well as some other large pieces of debris, were removed from the water and discarded. After the dive, volunteer divers indicated that the dive had been the most rewarding dive they had ever done. Christiansted Harbor is now a little bit safer for marine creatures.
Questions or comments can be addressed to mtaylor@uvi.edu.