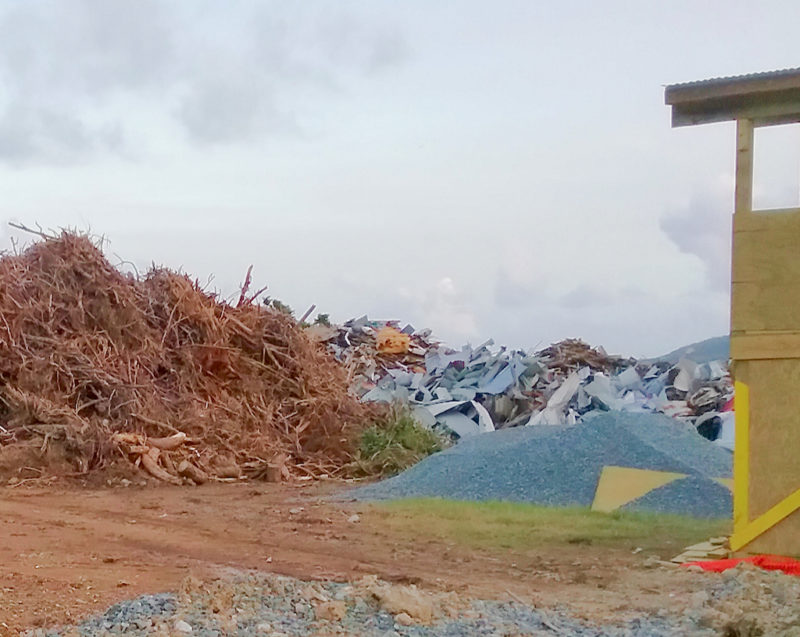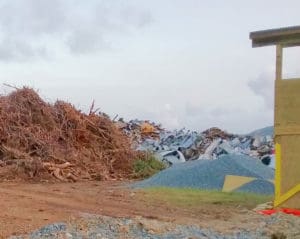 The furor over the prospect of burning hurricane debris has left some environmentalists wondering what happened to the rest of the territory's management plan.
According to a spokesperson at the Waste Management Authority, there's progress.
But WMA spokeswoman Alice Krall kept the details to herself. The plan largely addresses the disposal of vegetative waste. Other aspects focus on demolition debris, electronic waste and hazardous waste from households.
Krall added there was still no word on who would carry out the details.
"We are still in bid review process so are unable to disclose this information," she said.
Fallen trees and broken branches left by the passage of Hurricanes Irma and Maria constitute most of the territory's vegetative waste.
A management plan promoting the processing tons of damaged trees calls for the large-scale production of wood chips and compost. Proponents of effective waste management say it makes up half of the territory's waste stream. A government official said that is not correct.
WMA Board Chairman Harith Wickrema helped develop the proposal. It calls for separation of tropical hardwoods from the larger debris piles. Wood chips processed from the remainder would be distributed throughout wooded areas. The rest would be turned into compost and mulch to fortify sports fields, borders of airport runways, and for use by farmers and landscapers and to replenish topsoil.
"This is an opportunity to get a leg up on acquiring the infrastructure needed for comprehensive management of our vegetative and organic debris — which makes up around 50 percent of our normal waste stream," the proposal said.
Tons of trash created by storm damage overwhelmed St. John's Susannaberg Transfer Station within weeks after Irma and Maria passed. Tall walls of accumulated debris lined roadways near public trash bins and led emergency managers to create a secondary transfer station at the Moravian Church field in Coral Bay.
Reducing materials from the territory's waste stream has long been the goal of local environmentalists. But Krall differed on the impact such an approach would have, overall.
"The vegetative waste does not make up 50 percent of the solid waste stream," she said.
Over at St. John's Gifft Hill School, sustainable farming expert Dave Minner is getting a jump on debris management. He said he is also eager to see what the final plan for storm debris management will look like.
With help from engineers at the St. John Westin Resort, Minner had workmen spreading chipped trees and tree branches over the school's campus grounds this month.
While the processed debris was not completely free of other waste, Minner said it was suitable for the school grounds.
More of it would soon make its way into the school's hillside gardens and edible landscapes.
For the past five years Minner and teams of student interns from Iowa State University have partnered with Gifft Hill School on the Educational Resiliency through Horticulture Program. Composting has long been part of the sustainable farming mix.
Ramping up compost production to a scale large enough to tackle debris from two catastrophic hurricanes, he said, will take some investment. Building frames for compost windrows and the acquisition of a tub grinder are two steps Minner hopes to see.
"When we get down to the waste management plan, we need the equipment. Island Green's been working with the government, trying to get equipment on island for the past two years and we've gotten nowhere," he said. "Once the equipment comes in, it can stay in the territory. The waste can be stored and the equipment can be moved from island to island to process the waste."
The Virgin Islands is one of the U.S. states and territories that has a storm debris management system in place. Krall suggested the response following Irma and Maria will allow officials to update their plan.
The spokeswoman also assured the public that plant and tree debris in the St. Thomas-St. John district and on Water Island would not be burned. Gov. Kenneth Mapp and members of his administration favored a plan which included burning a portion of tree debris. It was a plan that enflamed opponents and led to a veto by lawmakers.
"The 32nd Legislature has passed legislation banning the burning of vegetative debris," Krall said.
It's a practice that's encouraged, but not required, by the U.S. Environmental Protection Agency. In 2016 EPA published a report, saying they would do more to help states and municipalities deal with their debris piles, providing hazardous waste was segregated from non-hazardous items.
Then, they said, there's a communications hurdle. States have debris management plans, but the federal agency is not familiar with the details of each plan. The General Accounting Office contacted EPA in 2007, saying it wanted to see the agency do more.
Federal auditors recommended that EPA work with the Army Corps of Engineers to obtain debris management plans from individual states and to help those states and territories without plans to get on board.
If the agency decides to adopt the recommendations, it would become the duty of the assistant administrator for land and emergency management to improve the federal response in that area.
Shared content for Virgin Islands Source and St. John Tradewinds.