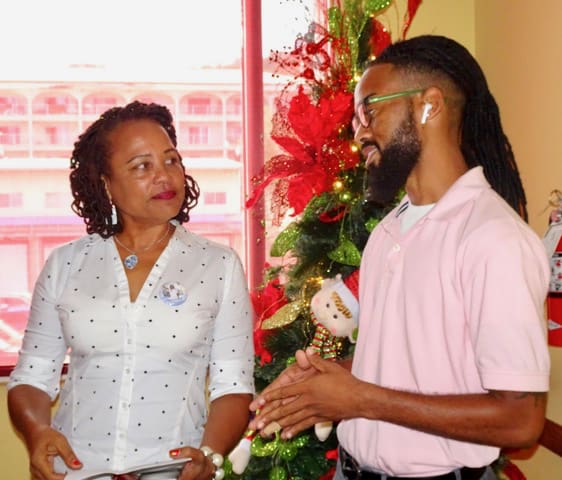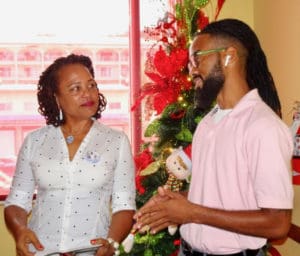 The Simply Sophisticated Fun Troupe took first place in the adult division of Saturday's Crucian Christmas Festival Parade, and Pearl B. Larsen Elementary School's troupe won top place in the children's division of the parade, which combined what are usually two separate parades.
Blackest and Fusion Band claimed honors in the Road March Competition.
"We have festival fever!" said Melody Rames, media and outreach chairwoman for the Crucian Christmas Festival.
In a small ceremony Tuesday upstairs at Banco Popular in Golden Rock, Rames announced festival winners of all divisions. Oran Roebuck Bowry, the bank's regional manager, stood by ready to present two envelops.
Banco Popular, a sponsor the 2017-2018 Crucian Christmas Festival, pledged to award first place winners of the Adults' and of the Children's Parades a cash prize.
"We sponsor groups often, but this is the first time we've been able to coordinate directly with the Festival Committee. It's definitely the start of a new relationship," Bowry said.
She presented Shamari Haynes, owner of the Simply Sophisticated Fun Troupe, with a cash card for $1,000 that she said was "immediately negotiable."
Students from the Pearl B. Larsen troupe, in class at the time, were not on hand, but the troupe will receive $800 in a similar cash card from the bank.
"Congratulations to you young people who braved the Adults Parade!" said Rames.
In the aftermath of Hurricane Maria, the festival committee combined the Children's and the Adults' Parades this year.
Shamari Haynes, 25, has owned Simply Sophisticated for 10 years. This was his 400-member troupe's ninth consecutive win, and it was Fusion Band's seventh time to win the Road March Competition.
The band has accompanied Simply Sophisticated in the parade from the beginning.
"We started together in 2008," said Haynes.
Haynes grew up in St. Croix's cultural sphere. His grandfather owned a quelbe band and played in many. Haynes danced quadrille as a kid, and as a youngster played fife with Stanley and the Ten Sleepless Knights.
"Culture is who I am," he said.
He worked on the Miss St. Croix committee for years, has judged the prince and princess pageants, and has designed costumes for the Party Monarch competition.
"I've been in the 'mas industry' half my life," Haynes said. "To play mas basically means to party. Most troupes have a mas camp where they prepare their costumes."
He described his own troupe's style as "bikini and beads", a term that classifies a style of design some troupes wear.
"Simply Sophisticated is one of the V.I.'s few locally made troupes," said Haynes. "Everything in regard to design, construction, and production is done here on island by locals."
Haynes said the 2017-2018 festival was great.
"The energy was right, the community needed a stress relief, and the Carnival committee stepped up to the plate in organization and communications," he said. "Everyone was ready to break free."
CARNIVAL WINNERS
Childrens Parade
Troupe (under 50): Pearl B. Larsen Elementary School
Majorettes: St. Croix Majorettes
Masquerades: Alexander Henderson Masquerades
Adult Parade
Floupe (100-200): Gentlemen of Jones
Troupe (201 and up): Simply Sophisticated
Troupe (100-100): Winner, Regal Dynasty; first runner up, D'People Band
Troupe (under 100): Winner, TSK; first runner up, Rigidims; second runner up, Department of Education
Float: V.I. Lottery
Individual: Bugs Bunny
Mocko Jumbies: Guardians of Culture
Steel Pan: UVI
People's Choice Award: We Shall Rise – Blackest and Fusion Band
Road March: We Shall Rise – Blackest and Fusion Band