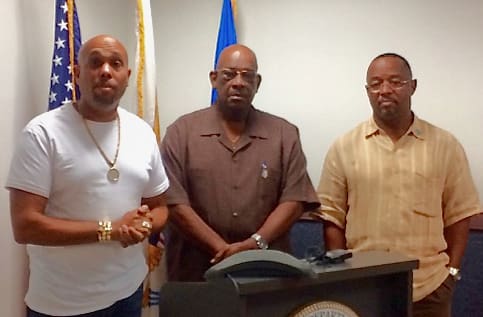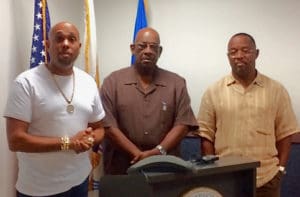 Crucian Christmas Festival President David Charlemagne announced plans Monday to reopen the festival's Irmaria Stress Free Zone Village on Friday night and Saturday night.
When the village closed early after a fatal shooting there last Saturday, festival goers missed out on the full entertainment lineup. Speaking at a news conference Monday at the V.I. Police Department headquarters in Frederiksted, Charlemagne said he wants to give people the good time they had expected prior to the incident.
"We want to finish and complete what we started," he said.
Charlemagne, flanked by Police Commissioner Delroy Richards and Franklin Johnson, senior policy advisor to Gov. Kenneth Mapp, talked about festival security – and fun – at the village this weekend.
"We want to show all those people out there in the outside world that we are a strong set of people," said Charlemagne.
Even in the aftermath of two Category 5 storms, he said, the village had opened for an unprecedented 16 days. He called it a "grand festival." He promised entertainment that people are unlikely to forget.
"Come out this Friday and this Saturday night!" he said.
Entertainment will run from 7 p.m. until midnight each night.
Charlemagne has booked soca singer Destra Garcia and bouyon musician Asa Banton. He is still lining up other musical acts, he said, adding that he hopes to snag soca artist Ricky T, as well.
Meanwhile, the village booths remain in place, ready for action. Mapp advisor Johnson has scheduled a meeting Wednesday with all booth owners.
"We will definitely put on the show and complete the festival," Johnson said. "Nothing will stop the festival."
According to Commissioner Richards, the VIPD has devised a security plan for these two days of activity at the village.
Richards confirmed that his department has arrested and holds in custody the perpetrators in the two separate Three Kings Day incidents – one inside the village and another outside in which an adult and two children were injured.
"When people come out to enjoy themselves, we have a responsibility to make them comfortable," Richards said.
The police will be out Friday and Saturday nights, he said.
"I know the venue will be 100 percent safe," Charlemagne said. "We will ensure that everyone will have a fun-filled festival."