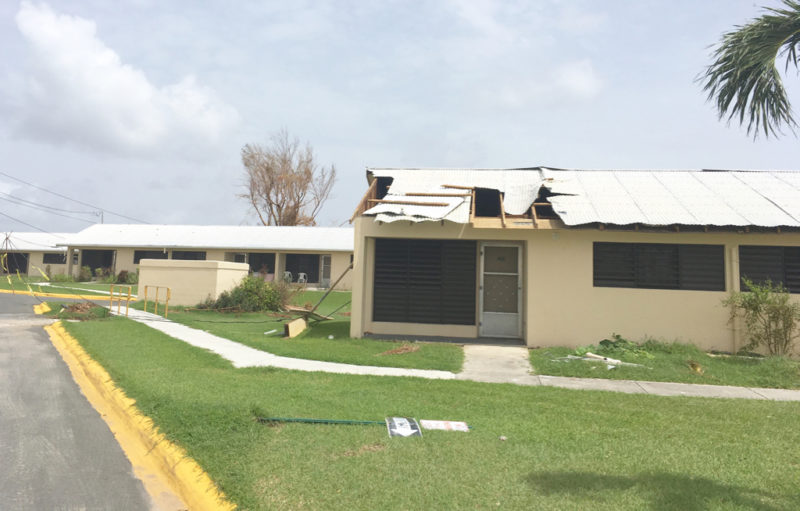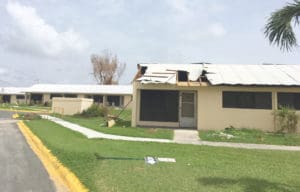 Monday is the last chance for residents of the U.S. Virgin Islands to register for disaster assistance from FEMA, the federal agency warned in a news release.
FEMA's release rounded up all phases of the effort to recover from the twin hits of Hurricanes Irma and Maria last September
The agency urged residents whose property was damaged by the hurricanes and haven't registered yet to do so at www.DisasterAssistance.gov, by calling 800-621-3362 or by visiting a Disaster Recovery Center in the territory.
The seven Disaster Recovery Centers are open across the territory to provide information and help for survivors of the hurricanes. They are open from 8 a.m. to 5 p.m. Monday through Friday and 9 a.m. to 2 p.m. Saturdays at the following locations:
– St. John: Cruz Bay at the U.S. Virgin Islands Legislature, St. John Annex, 1D Coral Bay at the Town & Country Building, 8-1 Estate Emmaus.
– St. Croix: Christiansted at the Old Post Office Building at Church and Company streets, Christiansted at St. Peter's Episcopal Church, 38-44 Castle Coakley, Frederiksted at the Rotary Club West, 40 KA-KD Estate LaGrange.
– St. Thomas: Charlotte Amalie at the former Scotiabank, 81 CC&DD Kronsprindsens Gade, Charlotte Amalie at Tutu Park Mall, 4605 Tutu Park Mall, Suite 233.
To date, the DRCs have logged a total of 49,051 visits, according to FEMA, which said in its news release the centers will remain open to help survivors as long as the need remains.
In other recovery news, FEMA reported:
– The U.S. Department of Housing and Urban Development has staff in the Disaster Recovery Centers throughout the territory. Virgin Islanders who receive HUD assistance might also be eligible to receive FEMA assistance. Information on HUD is available by calling 800-225-5342.
Housing Assistance
FEMA is addressing the need for disaster housing assistance in the territory by providing several different options in addition to its regular grants that go directly to survivors. These options include:
– FEMA has authorized Direct Leasing as part of its Individual and Households Program. The agency leases directly from property owners only in situations in which there is a severe shortage of rental housing, such as in the U.S. Virgin Islands. Direct Leasing is only utilized in circumstances where a disaster survivor is unable to secure housing with FEMA rental assistance. Property owners interested in having their rental property considered for Direct Lease can send an email to FEMA-USVI-DirectLease@fema.dhs.gov.
– The Multi-Family Lease and Repair (MLR) program targets owners of eligible multi-family dwellings that need repairs, are willing to lease to eligible hurricane survivors and meet certain criteria. For instance, the dwelling must have three or more units available for FEMA's use and it must have been previously used as rental property. Property owners interested in having their rental property considered can contact the MLR email at FEMA-USVI-MLR@fema.dhs.gov.
– FEMA has also approved Permanent Housing Construction, or PHC, in the form of direct home repairs for eligible survivors who meet the criteria. FEMA will perform only those repairs necessary to restore a pre-disaster residence to a safe and habitable condition. This is limited to the real property components eligible under FEMA's Housing Assistance program.
Homeowners whose initial housing inspection indicated they may be eligible for the PHC program are being contacted via phone calls, texts, and emails.
– The Small Business Administration is operating in Business Recovery Centers on St. Croix and St. Thomas to provide information about low-interest disaster loans, answer questions and assist businesses in completing the SBA application.
– Power has been restored to 92 percent of the territory, according to FEMA – STX: 90 percent; STT: 92 percent; STJ: 99 percent.
– Cell phone coverage has been restored to 81.2 percent of the territory – STX: 80 percent; STT: 84.38 percent; STJ: 62.5 percent.
Debris
Total debris removed: 544,989 cubic yards – STX: 408,243; STT: 103,706; STJ: 33,040) of
approximately 741,000 cubic yards total.
FEMA has been authorized to fund 100 percent of the cost for debris cleanup for the first six months
from the start of the incident periods for hurricanes Irma and Maria – until March, 4 for Irma and March 15 for Maria. This cost share applies to all debris removal operations regardless of the reduction method.
The territorial government is advising survivors to properly sort household debris and push it to the edge of their property near the street for collection. In order for debris to be collected, it must be sorted into four categories: Whites (appliances), electronics, vegetation, and roofing or construction materials.
Hazardous waste
The U.S. Environmental Protection Agency is collecting household hazardous waste. Residents should drop off batteries, fluorescent bulbs, household cleaners and solvents, pesticides, etc. at these collection locations:
– St. Croix:
Frederiksted at Evelyn Williams Elementary School. Hours of operation: 8 a.m. to 5 p.m. daily
Frederiksted at Plaza Extra West, 14 Plessen – One Day Only, 8 a.m. to 4 p.m. Saturday.
St. John: Myrah Keating Smith Community Health Center. Hours of operation: 7:30 a.m. to 4 p.m. Monday through Saturday and 10 a.m. to 3 p.m. Sunday.
– St. Thomas:
Charlotte Amalie at Addelita Cancryn Jr. High School
Lima (Gasworks) 7405 Estate Bovoni, 4B-D
Bovoni Landfill at Estate Bovoni, Landfill Road
Mandahl Transfer Station, Mandal Road, between Yvonne Bowsky School and Mahogany Run golf course, 7:30 a.m. to 4 p.m. Monday through Saturday and 10 a.m. to 3 p.m. Sunday.
Disability Integration
FEMA is delivering donated durable medical equipment to survivors who lack medical equipment or have other accessibility needs. Survivors in need of such equipment should let FEMA know when they register for assistance – or speak to someone on the FEMA Helpline.