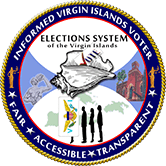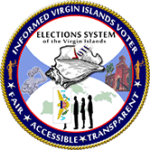 Supervisor Caroline F. Fawkes reminds candidates and political committees pursuant to the law that the December 30th Campaign Disclosure Report is now due. Supervisor Fawkes said, "The December 30, 2017 Disclosure Report must be submitted to the Office of the Supervisor of Elections no later than Jan. 16, 2018."
Important note: If a candidate or political committee has closed its account, it must submit its bank statement reflecting that fact; if there is under $500 left in the account during this reporting period, a report need not be submitted.
Attention: (St. Croix candidates or senators): The St. Croix District Office remains closed until further notice; therefore, two office locations have been designated where packages can be dropped off. The contact personnel and two agency locations and times are as follows:
Time Periods: 9 a.m. to noon; and 2-5 p.m.
Time Period on the last day is Tuesday, Jan. 16, 2018: 9 a.m. to 5 p.m.
St. Croix District Personnel
Blanca Maldonado, Election Assistant; V.I. Department of Public Works at 6500 Estate Anna's Hope
Terrell Alexandre, Administrative Assistant; V.I. Department of Finance at 4008 Estate Diamond, Lot 7 (behind Kmart East)
St. Thomas-St. John candidates or senators can drop-off their reports at the St. Thomas office.
St. Thomas-St. John District Office
9200 Lockhart Gardens (above Banco Popular)
Supervisor Fawkes also said, "Failure to submit the campaign disclosure report by the deadline will result in candidates and political committees incurring fees. Candidates who are delinquent in submitting their report(s) are subject to having their names published in the local newspapers as delinquent candidates/elected officials and will not be given a Nomination Package for the 2018 Elections."