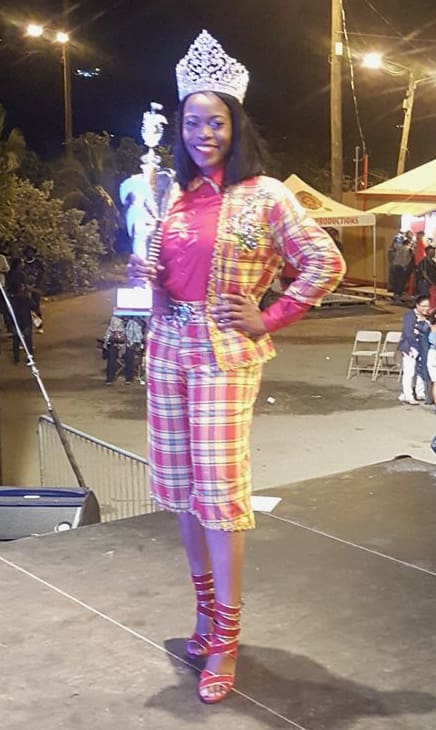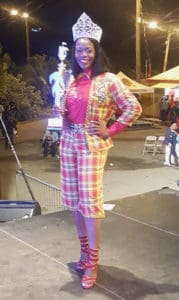 Temisha Libert – known to fans of island music as Caribbean Queen – captured her third successive Crucian Christmas Festival Calypso Queen title at the Calypso Monarch competition.
The contest concluded in the early morning hours Wednesday in the Irmaria Stress Free Zone. The show had begun several hours earlier, at about 9 p.m. Tuesday, with eight contestants participating including the Mighty Pat, who was awarded first runner up, and King-Kan-Fuc-Plen-Tae, who took second runner. Also competing was Mighty Willow, Moonark, King Paul , Ratso, and Mr. 340.
Libert came strong with her lyrics and her clear resounding vocals. Her first song, "Thank God for Life", recounted life after two category 5 hurricanes. In her second song "Power", Libert reflected on the abuse of power sometimes seen in persons in high and influential positions. She said there were obvious abuses of power in local politics following the hurricanes, but other examples of abuse were in the news prior to that.
"There is misuse of power in the workplaces and in communities that need to be addressed," she said.
The audience obviously agreed with the judges' choice. The crowd erupted in cheers and applause when Libert's name was called as the winner.
King Kan-Fuc-Plen-Tae, who usually delights audiences with his flamboyant costumes, did not disappoint his fans. In his first number, "Let the People Judge," King Kan voiced his concern with judges scoring of the previous calypso competitions while gyrating and prancing on stage. He wore white stockings, glittery silver heels, and when he took off his red coat he revealed a tight white dress hugging his thin frame.
In his second performance King Kan took potshots at Gov. Kenneth E. Mapp. Wearing a yellow and green bird costume featuring an abnormally distended stomach, his song suggested to find "missing" government money one should "Look in Mapp's Belly."
The Mighty Pat took to the stage in a white suit for his first number "Crazy Hurricane." His second number, "Centennial," gave tribute to the journey from slavery to the present day.
The Irmaria village was crowded as people arrived early and set up their chairs in front of the stage. Booth owners enjoyed a brisk business as customers bought fried chicken and johnny cakes, pates, kallaloo and other local favorites. In the crowd enjoying the festivities were Gary Goeken and Andrew Morris, electrical linemen with Haugland Energy of Washington state.
"This is paradise", Morris said with a huge smile. "I've been in the village every night, I've been snorkeling and its 85 degrees here! It's much better than being in an ice storm back home. I almost want to move here!"
Goeken was impressed with the hospitality he has experienced while on St. Croix.
"People take us into their houses and feed us lunch, that has never happened anywhere else I have been."
Local resident Albert Bryan was in the crowd watching the performances with some friends. He said the Calypso Monarch competition was his "favorite part of Festival".
"The melody and lyrics remind me of how things were a long time ago," he said.
Lt. Gov. Osbert Potter had been seen in the village several nights enjoying the music and festivities. He shared some of his thoughts on the nights' competition.
"It's a good show. The second half was more vibrant and competitive."
He observed that several veteran performers are no longer competing such as King Generic and Lady Mac.
"Some of the seasoned performers are no longer here and the younger ones have yet to fill in the gap, but overall it's good," he said.
Potter said he was going to get a little rest before coming out to J'ouvert in a few hours and then to the Food Fair.
"I'll be here for Reggae night, the Soca Monarch competition, the parade on Saturday and to see Kess and Destra close out the festival."
More information on the Crucian Christmas Festival is online at www.stxfestival.com.