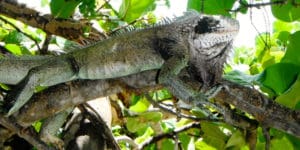 It was another New Year's Day, and we were heading out to search for Idle the Iguana, the Source mascot and all-around prognosticator. At the start of every new year we meet up with him to get his take on the island's outlook as we begin another trip around the sun.
Usually we find him in the tall grass or basking in the seagrape, but this year a lot of those have disappeared, thanks to the pummeling from Hurricanes Irma and Maria in September, and we were a little worried about how he'd weathered the storms.
But there he was, as we stepped out the door, waiting patiently on the front veranda, basking in the early morning sunshine.
"Well there you are, about time!" he said, taking a long stretch before flipping onto all fours and giving his tail a swish.
We assured him we were relieved to see him, and invited him inside for a cup of coffee – which he declined, being a lizard. Instead he beckoned with his head for us to follow him, and started down the road. We had no choice but to follow, flipping open our notebook and digging in our pocket for a pen to jot down his words of wisdom. That seemed to amuse him.
"You want me to put the year in perspective, to make some suggestions for the new year."
"If it's not too much trouble," we said.
"No trouble at all. Take this down."
Our pen hovered above the page.
"Where's Clark Gable when you need him?" he asked.
That caught us a bit by surprise.
"Clark Gable? The old movie star? What does that have to do with the post-Irmaria islands?"
He smirked.
"You know. Everything is 'Gone with the Wind.'"
"Good one," we said. "But what does that mean for 2018? Do you see the islands ever recovering?"
"You humans," he said, scoffing. "Something happens, you draw a line and say, 'Everything has changed. Nothing will ever be the same again after this. Well, as Scarlett O'Hara would say …."
"'Gone with the Wind' again?"
"Yeah, got a problem with that?"
"No, by all means, proceed."
He gave a courtly bow, like a Southern gentleman.
"As I was saying, as Scarlett O'Hara would say, 'Fiddle dee dee.' Of course things have changed, there was a pair of storms to beat all storms, and everything got broken. But one thing hasn't changed."
"What's that?"
"You. The people of the Virgin Islands. You're still here, you're still standing."
"Well sure. But so much is gone. Most of us only just recently got power back – thank you WAPA and all the off island linemen who made that happen. It makes a world of difference to be able to get up in the morning and flip on a light. Makes you appreciate little things like that."
"Exactly!" he said. The loquacious lizard was warming to his subject, his voice getting passionate. "It's how you look at it. It's not a line. It's a lens."
"Come again?"
"A lens! It puts everything into focus, doesn't it? Everything is so much clearer, all the other stuff gets stripped away and you can see things for what they really are."
We were scribbling away furiously in our notebook,
Pick a topic – anything."
"The government."
"Perfect example. Before the storms, was everything perfect?"
"Of course not!" we replied. "The budget was a mess, with a massive structural deficit, heavy debt, multiple ratings downgrades that made it impossible to borrow and no clear path to solvency."
"And before the storm, the politicians could argue about it, argue about what to do, and point fingers back and forth. They could still act as if they believed there was an easy choice, all while giving away holiday bonuses and extra holiday leave and and other goodies while the government is $450 million short of being able to pay this year's bills. I admit politicians make easy targets, but doesn't it seem like they'd rather not offend key voting groups, like government retirees, than make the hard decisions?"
Idle shook he head sadly, and then snapped his fingers. (We know, he's an iguana, he doesn't have fingers, per se, All we know is he twitched his forelimb and there was a snapping sound. If you want to argue the point, bring it up with him.)
"But then the storm hit. And now everything is in pretty sharp focus, don't you think? There's no more room to pretend they don't have to make hard decisions. In 2018 the V.I. Legislature and the executive branch are going to have to buckle down and faces reality, even where it is painful. The longer they wait the more the decisions force themselves, and not in a good way."
"But, 2018 is an election year," we pointed out. "Don't they have to look out for their reputations with the voters?"
He looked at us and, if he'd had eyebrows they'd have been arched in a sly expression.
"Frankly my dear, I don't give a damn."
"Really? 'Gone With the Wind' again?"
"You gave me the straight line," he said with a shrug. "But yeah. They can keep trying to buy off different groups with bonuses from money the government doesn't have, or they have have the reputation of officials who did what has to be done regardless of how it affects their personal popularity."
We were both silent for a moment, just thinking about the possibility.
"What about GERS?" we asked, thinking of the latest reports that indicated the government employees retirement system would run out of funds around 2020, just a couple of years away.
"What about it?" he asked. "It's too late to make any changes that will forestall the inevitable. Unless the federal government is ready to hand over – what was the estimate? About a billion dollars? – there's nothing much that can be done. The hard decisions never got made, they kicked them down the road hoping that somehow something would happen to save it, and now here we are. The decisions were made by not making any, and now the only planning we can do is getting retirees ready for a day in the near future when their monthly payments are a fraction of what they expected."
"But there are some things government officials could do to help. A big one would be if government agencies were more transparent. Secrecy has no place in government, and when times are hard – and I don't want to think of them getting harder than what we've just been through – transparency makes people feel comfortable that the government is working for them, not the usual insiders and connected folks.
"I'd like to see secretive V.I. government entities and the V.I. Attorney General – the man responsible for enforcing V.I. law – stop violating V.I. law as a member of the V.I. Port Authority and releases its votes; the Economic Development Authority stops defying a court order to tell the public what influential people it loaned money who never paid it back. WICO needs to start acting like the government entity it is and disclose how it uses its money and how much it pays its top employees. Same with the UVI RTPark, and on and on,
"I'd like to see every top V.I. official in the central government and autonomous agencies from UVI to WAPA lead by example and take a 25 percent pay cut, in recognition of the unavoidable fact that the money simply is not there and lots of government employees are going to feel the pain this year. The people who lead the government should step up first."
But Idle didn't confine himself to governmental matters.
"Let's get back to the point – the storms have brought things into focus, the bad and the good. You've seen how the community has come together because of the disaster. And if it took a little while for the full weight of the relief effort to rev up in the islands, at least we've seen helping hands from all over, public and private. Linemen from across the U.S., National Guard units from as far away as Alaska. A lot of people in the states still don't realize that the USVI is American territory and the residents are American citizens, but we were on the radar of private relief groups from all over. And thanks to all of them," Idle said.
"And don't forget local business," he added. "A lot of businesses – especially those selling fresh greens – figured out how to get up and running again, providing basic necessities, And their employees are back on the job, despite their own challenges. They showed up for this community."
"Now," he said, "there are a few others I would like to see join the community coming-together. I hope people stop cutting down trees while no one is looking to make room for more cement."
Idle continued.
"I know this is a friendly place and drivers are always ready to strike up a conversation when they happen to see someone they know. But with the roads in such terrible shape, and not likely to get better any time soon, it sure would be nice if motorists and especially taxi drivers would pull off the road to chat up friends and discharge passengers instead of blocking the entire lane."
"And no one is more grateful for the work of all the linemen – local and from across the states – to bring power back to the community. I just hope after they're done, they send some people back to pick up all the dead wires and electrical debris."
He looked like he was ready to wrap up, but we had one more question.
"So, with all the challenges, do you think we'll be able to make it through the next year?"
"Of course," he said. "After all, the strength of this community is the people. And if we all pull together, we can make it. After all …"
He paused. We knew what he was going to say, and we knew we couldn't stop him. He batted his eyes coquettishly and pretended to be fanning himself.
"Tomorrow is another day."