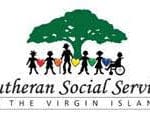 Between sporadic showers on Thursday, members of the Gerber family painted a colorful picket fence at Queen Louise Home for Children. The fence is one of the first of many repairs needed to the playground area after Hurricane Maria dismantled much of the play equipment.
Cindy Gerber, board member and friend of Lutheran Social Services of the Virgin Islands (LSSVI), motivated her family to donate time from their annual vacation to projects in the community. "My wife was the inspiration for this whole project, and the rest of the family was gung-ho!" said Murry Gerber. "The younger ones are very community minded, and it's exciting to see them take another opportunity to give back."
The 18 family members, who hail from California, Florida, Nevada, Pennsylvania and Scotland, spent Thursday completing projects at Queen Louise Home for Children and the Caribbean Museum Center for the Arts. The Gerbers have been avid supporters of Queen Louise Home for Children. Murry and Cindy Gerber sponsored the construction of the campus bike path in 2015, were annual sponsors of the now canceled 'Golf Classic and Gala,' and continue to support Queen Louise through their foundation, donating over $150,000 since 2012.