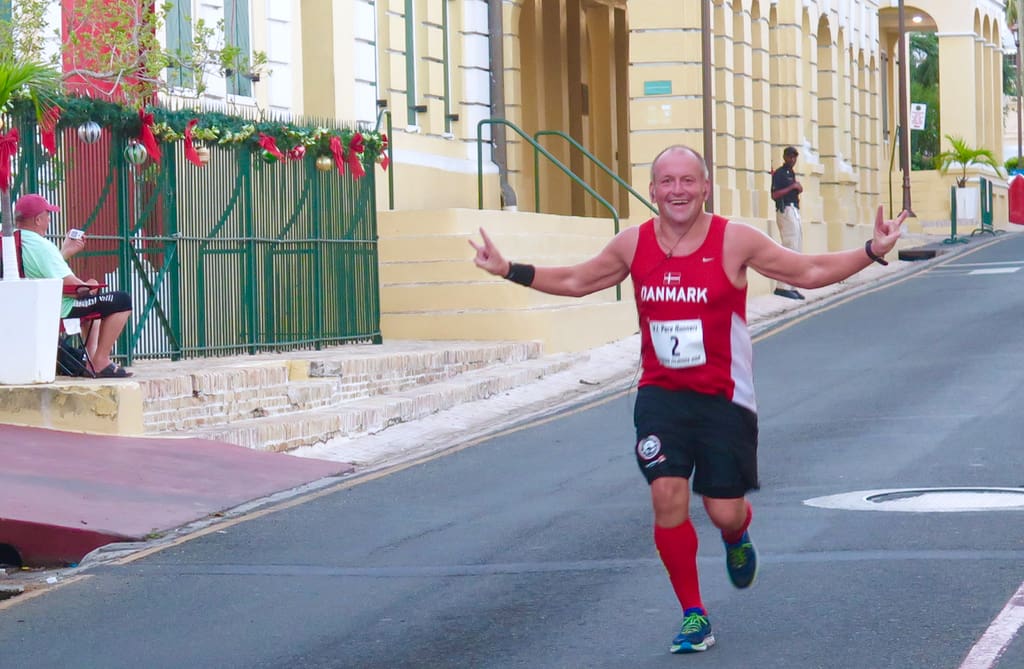 Two-time winner Billy Bohlke made it three titles Sunday when he won the 16th annual St. Croix Marathon, a race that was almost canceled by the slow recovery from Hurricanes Erma and Maria, which hit the islands in September.
With more than half the population still lacking electricity, roads pot-holed anc crumbling, and what hotel rooms that are suitable to occupy mostly filled with relief workers, organizers considered srapping the race for the year.
Instead, they made a few "this year only" changes and went ahead with the event.
This year only, the route was changed to a kilometer-plus loop course in the Christiansted National Historic Site. Called the V.I. Recovery run, entry fees were waived and four races were held: The 16th St. Croix International Marathon, the 43rd V.I. Half-Marathon, the St. Croix 10k (new this year,) and the St. Croix Marathon Relay for schools, with no limit to runners. In the relay, a pencil used as a baton.
Bohlke of St. Croix is always a finisher in the top group, and this year won the marathon for the third time with a time of 3:24.23. It was his first win since 2009, when he ran it in 2:44.
St. Croix cyclist Stephen Swanton finished second in 3:50.42; marathon enthusiast Peter Olsen from Denmark was third in 4:15.11; V.I. 50 mile champ Mike Klein was fourth in 4:35.54 and St. Croix ultra-runner Troy Holloway was fifth in 4:49.27.
In the women's marathon, medical student Jessica Carter of St. George, Vermont, defended her 2016 title with a time of 3:45.42. Jamie Gossilin of Millbury, Massachusetts, cruised through the mostly flat loop course for second in 4:09.38. Tr'e Bryten of Los Angles, started one hour late but finished third in 6:39.27.
Good Hope/Country Day School won the relay in a time of 3:50.42.
The half marathon was won by Juan Robles in a time of 1:26.11. The woman's half marathon was captured by Bridget Klein, who time of 1:33.49 not only won the woman's side but topped all the other men besides Robles.
The 10K race was won by Shane Degannes, the track and field/cross-country coach at Montessori School in St. Thomas and a former V.I. Half-Marathon Champion, led the 10k from early on to win in 38:36. Nyan Bansal, a Good Hope Country Day School student was second in 39:24 followed by Jeremy Garlin in third at 48:42.
Results follow.
Marathon
Males
1. Billy Bohlke, 3:24.23 2,
2.Stephen Swanton, 3:50.42
3. Peter Olsen, 4:15.11; 4,
4. Mike Klein, 4:38.54; 5,
5. Troy Holloway, 4:49.27
Females
1. Jessica Carter, 3:45.42 ;
2. Jamie Gosselin, 4:09.38;
3. Trey Bryten, 6:39.27
Marathon Relay
Good Hope/Country Day School 3:50.42
Mason Lambert, Kaden Gleason, Josie Calhoun, Shannon Calhoun, Kelsey Bohla. Alexander Bohla, Carolyn Grimm, Olga Capriola, Kim Lambert, Tuleen Al-Khaleo; (20 runners including: students, faculty and parents) (full list will be posted online)
Half-Marathon
Males
1. Juan Robles 1:26.11
2. Jay Gleason 2:16.22
3. David Makendrick 2:38.36
Females
1.Bridget Klein 1:33.49
2.Ruth Ann David 1:38.27
3.Kat Bronsdon 1:45.18
4.Megan Lambert 1:45.40
10k
Males
1. Shane Degannes 2:38.36
2. Nyam Bansal 2:39.24
3. Jeremy Garlin 48:42
4. Kevin Miner 51:44
5. Wayne Nichols 56:57
6.Islam Qartum 60:18
7. Florendo Astropabio 64:12
8.Ronald Bardach 69:55
9. Win Thomas 73:02
Women
1.Anita Freres 46:54
2.Natalie Barbach 51.45
3.Ana Gutierrez 56:55
4.Jaclyn Robak 60:21
5.Maria Jiza Alivio 74:52
6.Tanya Newsome 85:53
7.Kerry Hawkins 92:05
The organizers thanked the runners, the VIPD, the National Park Service, the Virgin Islands Track and Field Federation, and the volunteers and sponsors.