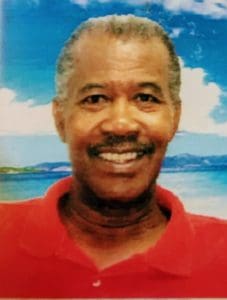 With heartfelt sorrow, we regret to announce the passing of Peter Noel McDougal, who resided at 94E Diamond Ruby, St. Croix, United States Virgin Islands. He died at the age of 71 in Atlanta, Ga., on Sunday, Nov. 26, surrounded by his immediate family. Born on Feb. 14, 1946, in Trinidad and raised in Aruba, he was a welder by trade and served during the Vietnam War in the United States Army's 101st Airborne Division (Screaming Eagles).
He was preceded in death by his mother, Marie Ann McDougal; father, Francillio McDougal; and brother, Glen McDougal.
He is survived by his loving and dedicated wife of 49 years, Melva McDougal; his daughters: Dr. Joanne McDougal Patterson and Dr. Ereka McDougal; his son, Kevin McDougal; son-in-law, Kevin Patterson; daughter-in-law, Krystal Rivera McDougal; and grandchildren: Asa Patterson, and Simaya and Raiya McDougal; brothers: Junior McDougal (Aruba) and Wayne McDougal (Maryland); sisters: Ann McDougal (St. Croix), Angela McDougal (Curacao), Patricia McDougal, Velma Manuela, Debra McDougal, and Daphnie McDougal (Aruba); and aunts: Olive and Baby.
He is also survived by brothers-in-law: Albert Manuela, Teddy Lane, Donie da Costa (Aruba), Alvin Constance (St. Maarten), Rafael Whitfield (New Jersey) and Ronald Constance (Holland); sisters-in-law: Dora Britton (Holland), Ingrid Whitfield (St. Eustacia), Briggete Marsden, Violet Richardson, Brenda Richardson (St. Maarten) and Rosita Whitfield (New Jersey); special niece and nephew: Dana and Dane McDougal; and too many cousins, nieces and nephews to mention.
Other survivors include special friends: John Barzey, Ricardo Cornette, Arthur Arrindell, Sandy and Claudette Aarndel, Rico and Joy Aarndel, Lenore DerWeer, Stephanie DeWindt, Gloria Rissing, Georgette Arrindell, Roy and Cheryl Springer, Benedict Baptiste, Michael Murray, Walter and Judy Murray, Dorian and Martha Joseph, Nathaniel and Yvonne Romney, Charles and Delis Corke, Ivan Johnson, the Sue family, Joseph Naransingh, the Bryson family, Desmond Trim, Walker, Larry Williams, Maria Sinanan, and Reynaldo and Diane Rivera as well as their extended families, friends, and neighbors, too numerous to mention, whose lives he touched.
The viewing will be held from 9:30-10:30 a.m., Wednesday, Dec. 20, at Holy Cross Catholic Church. A mass will follow immediately after. Interment will be at Kingshill Cemetery, Veterans Section, St. Croix.
Arrangements are entrusted to James Memorial Funeral Home.