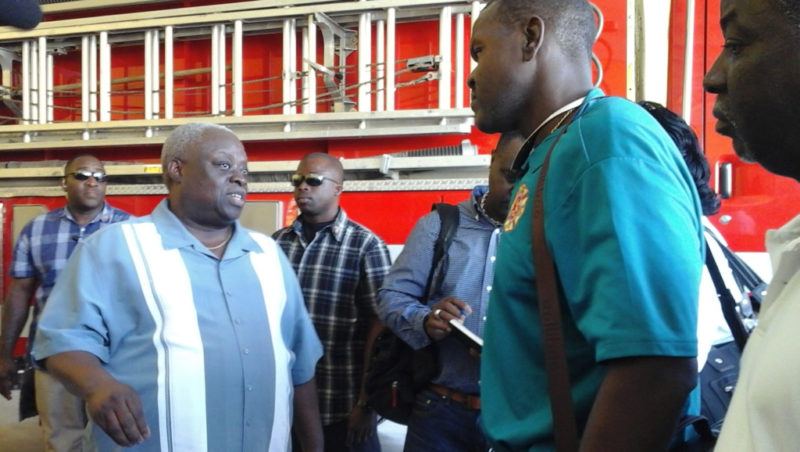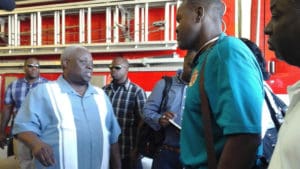 Seven weeks after he took his cabinet members on a hurricane response trip around St. John, and ten weeks after landing by helicopter to view the wreckage of a hurricane, Gov. Kenneth Mapp returned Tuesday to tally the destruction.
Mapp described his latest round-island tour as "an assessment tour" to check government buildings damaged in Hurricane Irma or Hurricane Maria, or both.
This time, the entourage was larger than his previous visits. Almost a dozen agency heads and commissioners joined a walking tour of Cruz Bay, then boarded a caravan to visit stops outside of town.
The assessment is needed to satisfy federal guidelines about which government facilities can be replaced at federal expense. For Mapp, the tour was also a chance to check progress on changes that had taken place since his last St. John tour, in mid October.
St. John's only public school, it's major health clinic and it's two fire stations were all on the list of sites to be demolished. Government House spokeswoman Nicolle Bollentini said assessments of storm damaged facilities on St. Thomas and St. Croix have been conducted over the past several weeks.
One of the first stops on the tour was to Leander Jurgen's Police Command, where Public Safety had carried out roof repairs in the spring. The governor asked Deputy Police Chief David Cannonier, if he could make one request, what it would be.
More manpower, Cannonier said. Officers assigned to Zone D have worked 12 hour shifts for the 96 days, he said.
The deputy chief also passed along payroll deduction questions raised by officers on special duty overtime. Mapp turned to Chief of Staff Erroll Farrell and directed him to follow up with Finance.
Principal Marion Lynch-Esannason spoke about conditions at Julius E. Sprauve School, where 125 students, grades kindergarten through eighth grade, attend class on split shift schedules. The Clarice Thomas Annex, across the road from the main complex, lost its roof during Irma.
Sprauve School would have to be replaced, the governor told firefighters while visiting the Robert O'Connor Sr. Fire Station on the tour's next stop. Administration officials were looking into an alternative site from the one long proposed for relocation in Catherineberg. But Mapp said it would be just as expensive to build a new school elsewhere as it would to make repairs.
Later in the tour, he said the same about the Cruz Bay Fire Station. During the October tour some officials had hinted the Coral Bay Fire Station would also find a new location when it is rebuilt.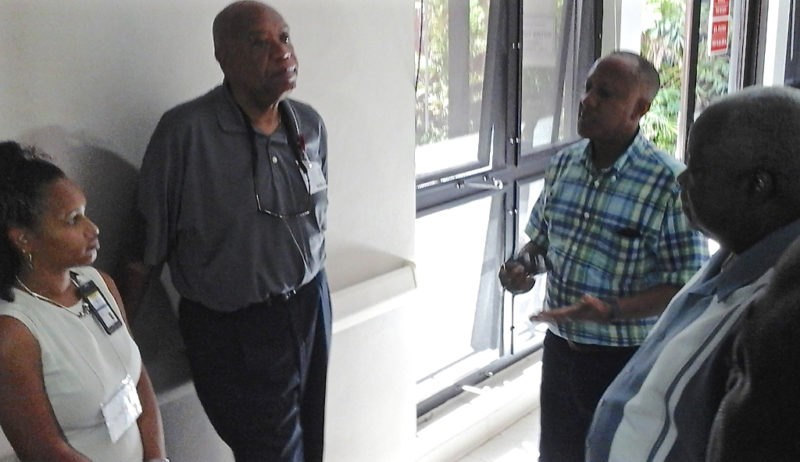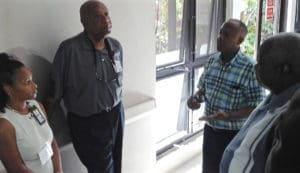 At the Myrah Keating Smith Clinic, Farrell held the door open for the governor and Schneider Regional Medical Center CEO Bernard Wheatley. At the same time the chief of staff warned those with asthma to stay out.
Inside, the dim clinic corridors were lit by glass doors opened toward the courtyard. Chief Operations Officer Darryl Smalls held the door open, letting in a breeze while they talked.
Since flying debris damaged the clinic roof, the single story structure experienced flooding in the heavy rains that followed Irma and Maria. When MKSC's emergency generator failed in October, SRMC officials moved into the Morris F. deCastro Clinic in Cruz Bay.
There they share a tiny space with the St. John Health Department. Wheatley described working conditions there as "snug."
Something would have to be done, Wheatley said. But as they tried to sort out a better scenario, there was no discussion about a permanent fix for Keating.
St. John does not have a hospital. Severely sick or injured patients are transported by ambulance boat to St. Thomas and the Schneider Regional Medical Center.
Mapp asked Dr. Tai Hunte, medical director for the Department of Health, about the ambulance boat.
The boat, Star of Life IV, is back in service after being damaged by Irma, Hunte said. The vessel was shipped to St. Croix for repairs and was out of the water when Maria struck, avoiding further damage.
However, Star of Life IV sustained further – minor – damage when it struck a submerged vessel, Hunte said. The ambulance boat is functional but will have to travel to Puerto Rico for dry dock and additional repairs in the future.
After sharing details in the dank hallway outside the nurse's station, Mapp said it appeared there was a temporary plan for the clinic.
"Mr. Smalls and Dr. Wheatley were telling me they'd come to a decision about the kind of fixed modular that would go into the health facility," Mapp said. "They were showing me the fixed modular facilities that were approved for Myrah Keating and they'll be out in the parking lot area," he said.
At a recent meeting of the Senate Health Committee, officials told lawmakers there were doubts about which storm crippled hospitals or clinics would received modular spaces. At Keating Clinic, Mapp said he was advised the facility suffered more tha 50 percent damage, the threshhold set by the Federal Emergency Management Agency.
At O'Connor Fire Station, firefighters Leon Callwood and Gregory Lewis asked if the firehouse kitchen could be restored. They also told a story about a recent emergency call where fire trucks encountered a road strewn with debris.
Emergency response, they said, was restricted by a blocked road. The governor thought about what the firefighters said but gave an answer tinged with resignation.
With Keating closed, St. John is also left without the small, functional morgue once used to hold the dead until they could be tranferred to St. Thomas. Continued problems with phone and internet connectivity leaves many incapable of calling 911 in an emergency.
Those kinds of conditions may arise during the recovery period, Mapp said. There may not be a lot the government can do about it. The territory is moving out of emergency response and into a recovery period.
"It's two Cat 5s," he said about Irma and Maria. "There's no normalcy after two Cat 5s, 104 days out. The firefighters were talking about roads still having debris – they're disasters. There's no quick fix. You try to get the main roads fixed, you try to get the secondaries, the third, fourth. That's how you do it. You get the populated areas open so you can get emergency services and help there. It's two Cat 5 hurricanes."
Mapp said the territory is making progress, but sometimes that doesn't seem like enough,
"I want to say this, showing some empathy and concern but clearly there are going to be some people who are going to fall through the cracks until we can rebuild the infrastructure," he said.
The governor said he was pleased at the pace of power restoration, declaring St. John on track to meet the goal of being 90 percent re-energized by Christmas. He added that 79 of the territory's 121 cell phone towers are back in service, another sign of progress.
Shared content for Virgin Islands Source and St. John Tradewinds.