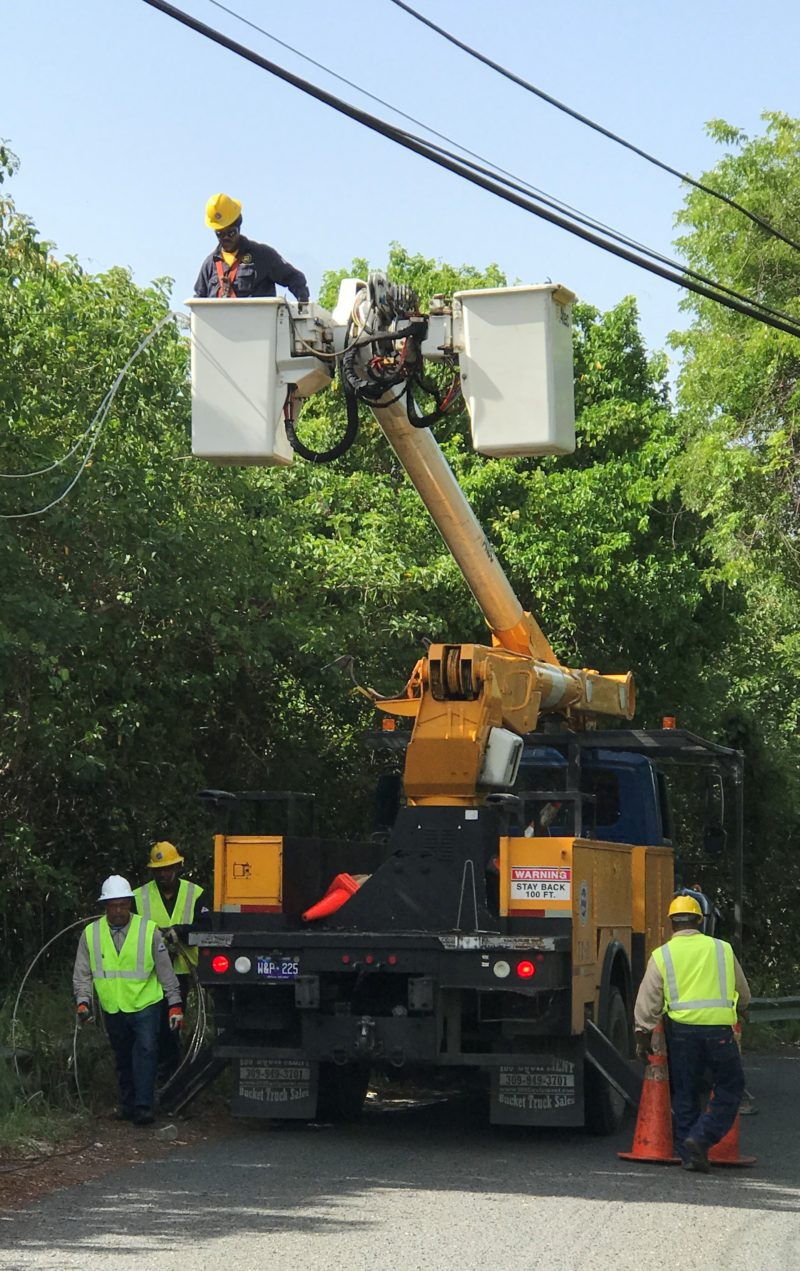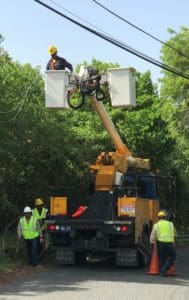 HURRICANE RESTORATION UPDATE
ELECTRICAL SYSTEM
With more than 25,000 customers re-energized territory-wide, restoration and reconstruction efforts continued in both districts on Thursday.
On St. Thomas, some customers were restored in the following areas: Lindbergh Bay, Solberg, Altona, Caret Bay, Dorothea, Frenchman's Bay, Bolongo, Hawk Hill, Scott Free, St. Peter Mountain Road, Estate Pearl, Nadir, Tutu Valley and Sapphire Village.
On St. Croix, some customers in Clifton Hill, Estate Whim, William's Delight, Campo Rico, White Bay and White Lady were restored. Fifty customers on Feeder 2A from The Buccaneer Hotel to Villa Madeline were also restored.
On St. John, additional customers on Pocket Money Hill, San Soucci, Upper Fish Bay, Great Cruz Bay, Carolina and Bordeaux were restored.
On Friday, the Valdemar Hill Sr. Drive, "Skyline Drive" on St. Thomas, will be closed to vehicular traffic from 8:30-11:30 a.m., and again from 1-4 p.m., as crews perform reconstruction work and debris removal. The road closure will be in effect from the intersection of Louisenhoj Castle to the Donoe Bypass. Area residents will be allowed to access their homes during the road closure. Alternate routes are available for motorists who must traverse the area.
The WAPA Customer Service Office on St. John will resume operations on Friday, Dec. 8. It will be open from 10 a.m. to 3 p.m., on Mondays, Wednesdays and Fridays. Due to Internet connectivity challenges, limited service will be available at this location. Until further notice, only checks, certified checks and money orders will be accepted as a form of payment. Cash and credit card payments will not be accepted until further notice. Customers must provide account numbers in order to process all transactions.
*******************************
Customers are reminded that homes with temporary roofs (blue roofs) will be restored with electrical service once a licensed electrician has certified, in writing, that the structure is safe to energize.
If work needs to be done to repair a damaged meter base and/or weather head, customers must call the Emergency Call Center at 774-1424 on St. Thomas-St. John or 773-0150 on St. Croix. The call centers operate seven days a week, 9 a.m. to 5 p.m.
If your electric meter was removed by WAPA personnel to facilitate repairs to either a meter base and/or weather head, once repairs are completed and a licensed electrician certifies the work in writing, customers are required to contact the Customer Service Office to ensure that the meter will be reinstalled and resealed prior to the restoration of electrical service. All fees usually associated with meter removal and reconnection have been waived. Customer service offices are operating Monday through Friday, 9 a.m. to 4 p.m. at Sunny Isle on St. Croix and Port of Sale Mall on St. Thomas.
Reconstruction, restoration and hurricane debris removal crews are deployed across the islands. Motorists are asked to exercise caution when driving through the work areas and to heed the directions of flaggers and VIPD officers who are assisting with traffic control.
Residents are reminded of the need to shut off standby generators when line crews are in your neighborhood restoring electrical service. A standby generator has the potential to back feed electricity to the grid which poses a severe safety risk to restoration crews.
POTABLE WATER SYSTEM
There are six days of emergency water storage on St. John, eight days on St. Thomas, and five days on St. Croix. Customers toward the west end of St. Croix will continue to experience low water pressure at times as efforts continue to build capacity in the Kingshill storage tank.
WAPA urges clean-up contractors and homeowners in both districts to exercise caution when piling debris on and around potable water meters. There are a growing number of instances where water meters are being damaged by clean-up equipment grading debris and causing damage to the roadside water meters. The continued damage by heavy equipment poses difficulty in maintaining or restoring potable water service to customers.
OTHER INFORMATION
Emergency Call Centers operate 9 a.m. to 5 p.m., seven days a week.
St. Thomas-St. John district, 774-1424; St. Croix district, 773-0150
WAPA telephone contact: St. Thomas-St. John District, 774-3552; St. Croix district, 773-2250
Customer Service Offices operate Monday through Friday, 10 a.m. to 4 p.m. at Sunny Isle on St. Croix and at Port of Sale Mall on St. Thomas
WAPA website: www.viwapavi / Facebook: Virgin Islands Water and Power Authority