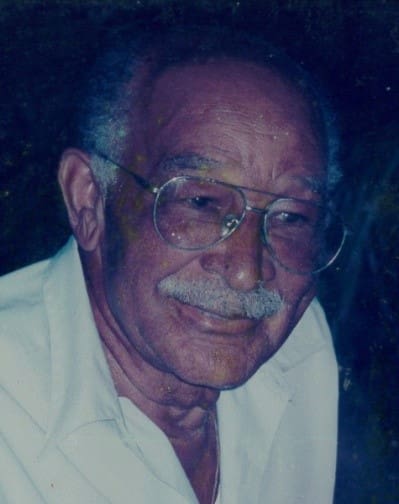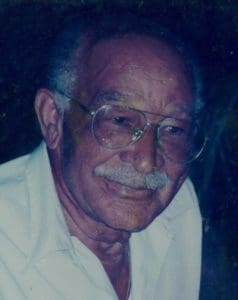 Otto M. Tranberg, also known as "Chico." of Hannah's Rest in Frederiksted, died on Thursday, Nov. 30. He was 99 years old.
He was preceded in death by his wife, Emily E. Tranberg; mother, Virginia Percival Tranberg; father, Lauritz Tranberg; grandparents: Hans Jacobs and Mary Lucas; sisters: Olivia Tranberg Andrews, Marie Tranberg, Ingeborg Tranberg, Ann Tranberg, Ina Tranberg, Martina Tranberg, Eugenie Tranberg and Rosalia Tranberg; brothers: Emile Tranberg, Carl Tranberg, Lester Tranberg and Didlift Tranberg; niece, Olga Tranberg; and nephew, Olric Forde.
H e is survived by his daughter, Patricia Tranberg Stevens; son, Lauritz M. Tranberg; grandchildren: Tamara Reynolds and Keisha Irving; brother, John Tranberg; nieces: Unise Tranberg, Eleanor Tranberg, Charlott Tranberg, Alden Martinez and Molly Tillman; nephews: Svend Tranberg, John Tranberg, Carl Tranberg, Ronald Tranberg, Lauritz Blackwood and Rafael Berrios; great nieces: Amy Blackwood, Laurie Blackwood, Debbie Tillman, Marcie Williams, Jeminice Martinez, Nicole Tranberg, Lamonique Berrios, Taylor Reynolds and Gabriel Reynolds; great nephews: Michael Blackwood, Bobby Blackwood, Dean Matthew, Gregory Tillman, Edgar Tillman, William Tillman, Anthony Tillman, Chad Martinez, Svend D. Tranberg, Ian Tranberg and Taj Tranberg; great-great niece, Aurora Tranberg; daughter-in-law, Pamela Tranberg; brother-in-law, James Heathman; and sister-in-law, Lois Wells.
He is also survived by his special friends: Mary Duggan, David and Sonia Henry, Kimberly Hansen, Clair Roker, Helen Hector, Cathy Prince, Mr. and Mrs. Donald Avery, Nurse Prince, Nurse Moreno, Dr. Eduardo Nadal, Vincenta Pilgrim, Carmen Mills, Senator Sanes, Yvonne and Dan Liburd, Bernie and Larrie, Dr. Angel Lake, Petra Olsen, Nadine Samuel, Mr. and Mrs. Roger Nickels, Jaqueline Smith, Mr. and Mrs. Cedric Moorehead, Adelbert Bryan, Dr. Griffith, Dr. Mannings, Lendel Saddler, Brittain Bryant, Verdon Brown, Buston Browne, Leif and Elisabeth, Charles and Anita Nibbs, Ricky Hernandez, Thelma Springer, Maria Hernandez, Karen Stout, Joan Keenan, Anita Roberts, Mr. and Mrs. Richardson, Ellen Kuhlman, Father Carlyle Blake, Father Kenneth Gaddy, Mike Evans, Simonique Joseph, Corleen and Dean Petersen, Annette Harrigan and John Swayze.
Other survivors include cousins and other relatives: Oversen family, Germaine Payne and family, Tranberg- Hansen Family (Denmark), Percival family, Lockhart family, Forde family, Chinnery family, Robin and Michael Jones, and Gift family; as well as other relatives and friends too numerous to mention.
The viewing will begin at 9:30 a.m. followed by a funeral service at 10:30 a.m., Friday, Dec. 15, at St. Patrick's Catholic Church. Interment will be at Frederiksted Cemetery.