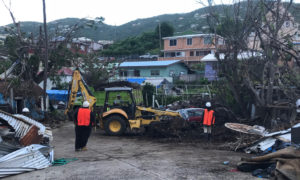 There is no way to pay for composting 100 percent of storm debris and the Legislature's recent burn ban hamstrings only the government while leaving private companies free to burn away, Gov. Kenneth Mapp said Wednesday.
On Dec. 1, the V.I. Legislature approved a bill to ban the large-scale burning of wood and vegetative debris from the recent storms. Environmental groups and others raised concerns about the health impacts of large-scale incineration after Mapp suggested at a news conference that he might authorize the Army Corps of Engineers to begin incineration.
Senators amended the bill to allow individual property owners to burn material on their own properties, if they got a burn permit first.
At a news conference Dec. 4, Mapp said 65 percent of the vegetation waste will be chipped and composted while the other 35 percent will be incinerated, suggesting he may veto or ignore the Legislature's action. That prompted Senate President Myron Jackson (D-STT) to warn Tuesday if Mapp vetoes the measure, he would ask senators to override the veto.
In a statement issued Wednesday evening, Mapp defended his environmental record and simultaneously argued some burning is necessary.
The statement from Government House says Mapp "will not allow the people of the Virgin Islands to be saddled with the expense of hurricane debris removal when the federal government is willing to cover the costs."
Mapp asserted the Federal Emergency Management Agency will pay for all debris removal and disposal until March 20. After that, the V.I. government will be responsible for the expense of all debris not disposed of by that date.
Administration officials recently testified to the Legislature that initial post-storm projections suggest the government faces a budget shortfall of $453.6 million for the current year. Assuming the USVI gets $250 million in disaster assistance loans, it still is short by more than $200 million from what it needs to meet budgeted expenses such as government payroll, pension and insurance contributions. That projected deficit does not include any costs for disposing of debris. Nor does it include $22 million or so in costs for employee health insurance as a result of the Senate not acting on Mapp's proposal to increase employee insurance contributions.
"The majority of this vegetative waste will be mulched and composted. … But in light of the March 20 deadline, we must leave all options for debris disposal on the table," Mapp said.
Mapp pointed out that he had sponsored the initiative to ban plastic shopping bags from the territory, and has pushed for mandatory recycling and other policies designed to protect public health and the environment. He said he made the decision to allow for up to 35 percent of hurricane debris to be incinerated on the recommendation of the Joint Debris Task Force, which includes FEMA, the V.I. Territorial Emergency Management Agency, the U.S. Environmental Protection Agency, Army Corps of Engineers, the Waste Management Authority, Department of Public Works, Department of Planning and Natural Resources and V.I. Water and Power Authority. According to Mapp, this task force reviewed territory-wide composting, mulching and air curtain incineration, as ways of disposing of vegetative waste.
Officials have estimated that more than 700,000 cubic yards of vegetative waste was created as a result of Hurricanes Irma and Maria. Experts have described its disposal as a massive undertaking.
"Without some incineration, we are unlikely to meet the deadline," Mapp said, adding he is "attempting to make a reasoned decision and remain very concerned about the environment and about the lives and health of the people of the Virgin Islands."
He suggested the air curtain incineration method that FEMA has proposed using was clean and EPA would continually test air quality.
Mapp reiterated his assertion, made on Monday, that no large pieces of tropical hardwood, such as mahogany, will be composted or incinerated. The Department of Agriculture has been working to separate this wood, which will eventually be made available to the public.
He also pointed to what he regards as a major loophole in the ban approved by the Legislature that would cost the territory money while still allowing burning.
"One of the major issues is that the Legislature has deemed that private persons, including companies, can still get a permit and burn debris without any concerns about air quality or monitoring," Mapp said.