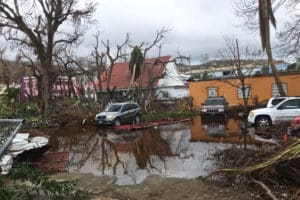 With the disastrous 2017 hurricane season finally officially over, the Colorado State University team that monitors and predicts hurricane activity said Thursday that the season was extremely active – more active than they had predicted back in the spring.
The CSU Tropical Meteorology Project forecast team, in a news release issued Thursday, said of most note during the 2017 Atlantic hurricane season were three hurricanes that devastated the continental United States as well as islands in the Caribbean and other portions of the tropical Atlantic: Harvey, Irma and Maria.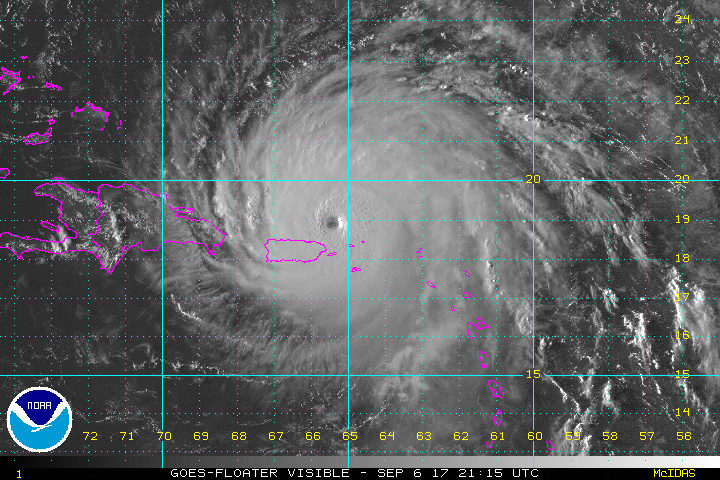 Irma and Maria, of course, blasted the U.S. Virgin Islands in September, causing billions of dollars in damage and devastating the territory's infrastructure.
"The 2017 hurricane season was extremely active. Overall, our predicted numbers from our early July and August issue dates for named storm and hurricane formations were relatively close to what was observed, but our early season predictions and our predictions for integrated metrics such as Accumulated Cyclone Energy (ACE) were far too low," said Phil Klotzbach, lead author of the forecast.
Seasonal Accumulated Cyclone Energy (ACE) was approximately 235 percent of the 1981-2010 median, due in large part to the extremely active September that was observed. September 2017 generated more ACE than any other Atlantic calendar month on record.
The report summarizes all tropical cyclone activity in the Atlantic basin during the 2017 hurricane season and compares the team's seasonal and two-week forecasts to what occurred.
Factors for an active season
Several factors likely combined to make the season extremely active. During the spring of 2017, the team anticipated a weak to moderate El Niño developing. El Niño events tend to be associated with increased upper-level winds in the Caribbean and tropical Atlantic, increasing levels of vertical wind shear that tear apart hurricanes as they are trying to develop.
This El Niño did not develop, and by the end of the season, weak La Niña conditions had formed. The atmosphere responded to these relatively cool eastern and central tropical Pacific sea surface temperature conditions by generating reduced vertical wind shear in the Atlantic.
The tropical Atlantic was also much warmer than normal during the peak of the hurricane season. Very warm sea surface temperatures and reduced levels of vertical wind shear led to anomalously hurricane-enhancing conditions, especially during September, when the Atlantic generated three long-lived, intense hurricanes: Irma, Jose and Maria. While September generated record levels of Atlantic ACE, all other months of the Atlantic hurricane season had activity at close to normal levels.
CSU's initial forecast for the 2017 season was issued on April 6 and predicted slightly below-average hurricane activity, due to anticipated shear-enhancing El Niño conditions. As the odds of El Niño diminished and the tropical Atlantic anomalously warmed, CSU increased its forecasts, calling for a near-average season on June 1, with an above-average season predicted on July 5 and August 4.
In the first forecast issued on April 6, the team called for 11 named storms, four hurricanes and two major hurricanes. The CSU team increased its forecast and on June 1 called for 14 named storms, six hurricanes and two major hurricanes.
The July 5 and Aug. 4 updates continued to increase levels of activity predicted in 2017, calling for 15 named storms, eight hurricanes and three major hurricanes, and 16 named storms, eight hurricanes and three major hurricanes, respectively.
Observed activity was 17 named storms, 10 hurricanes and six major hurricanes. Slightly below-median ACE of 85 was predicted on April 6, increasing to 100 on June 1 and 135 on July 5 and August 4. Observed ACE was a whopping 226, CSU reported. The 1981-2010 median Atlantic ACE was 92.
The team bases its annual forecasts on 60 years of historical data and includes factors such as Atlantic sea surface temperatures and sea level pressures, levels of vertical wind shear (the change in wind direction and speed with height), El Niño (an anomalous warming of waters in the central and eastern tropical Pacific) and other factors. While these forecast factors generally work well and explain approximately 50-60 percent of the year-to-year hurricane variability in these 60 years of historical data, there remains 40-50 percent of this variability which is not explained.
2017 records and stats
Hurricane statistics for 2017 contained in the report include the following:
– September 2017 broke Atlantic calendar month records for named storm days (53.5), hurricane days (40.25), major hurricane days (18) and Accumulated Cyclone Energy (175).
– Harvey was the first Category 4 hurricane to make landfall in Texas since Carla (1961.)
– Irma's maximum intensity of 160 knots was the strongest winds recorded by an Atlantic hurricane outside of the Gulf of Mexico and Caribbean on record.
– Harvey and Irma marked the first time that two Category 4 hurricanes have made continental United States landfall in the same year.
– Maria was the first Category 4 hurricane to make landfall in Puerto Rico since 1932 and the strongest hurricane to make landfall in Puerto Rico since 1928.
CSU's Tropical Meteorology Project has attributed the upturn in major hurricane activity since 1995, as well as the earlier increase in major hurricane activity from the late 1940s through the mid-1960s, to natural multi-decadal variability in the strength of the Atlantic Multidecadal Oscillation (AMO.)
A concomitant increase in several favorable hurricane-enhancing parameters occur in the tropical Atlantic during the positive phase of this oscillation – while these same parameters tend to suppress hurricanes during the negative phase of this oscillation.
There was some question as to whether the Atlantic was moving into an inactive era for storms, given the very quiet seasons of 2013-2015 that occurred. However, the extraordinarily active 2017 season casts the current state of the AMO into even more doubt.
The Tropical Meteorology Project has been issuing forecasts for the past 34 years. A brief qualitative outlook for the 2018 hurricane season will be issued on Wednesday, Dec. 13, with a first full forecast issued in early April 2018.