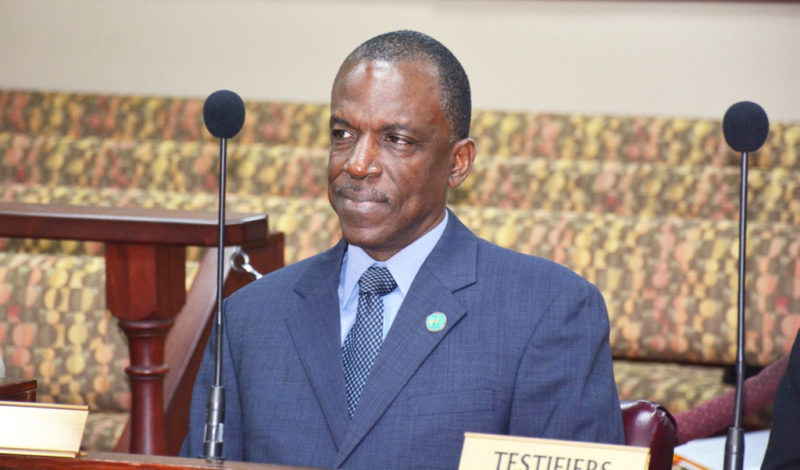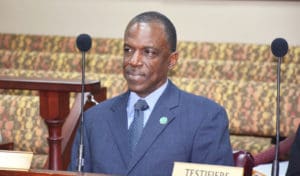 The territory is not planning to burn debris across the entire territory, Agriculture Commissioner Carlos Robles told senators during a Committee of the Whole hearing on legislation to ban incineration of trees and vegetation debris from hurricanes Irma and Maria.
Numerous senators were broadly supportive of the idea of banning incineration of the debris, and none spoke strongly against it.
Robles' comments contrasted with comments Gov. Kenneth Mapp made at a news conference Monday. At the time the governor said he would allow burning if no plan was presented this week to compost or shred the debris. Mapp said the government does not have the money to fund a composting program right now.
In response,the Sierra Club, Island Green Living Association and the Virgin Island Conservation Society responded by saying they would sue to prevent incineration and Senate President Myron Jackson (D-STT) drafted legislation to ban burning debris from the two storms. The bill [Bill 31-0157] also calls for purchasing equipment to mulch the material, using FEMA funds, and a study on the economic and health impacts of wood burning.
The Army Corps of Engineers has committed to help remove up to a million cubic yards of debris, including green debris.
Wednesday, Robles told senators the government's aim was "to take all the potential processes into consideration" for reducing the volume of debris.
He said they had contacted the University of Maine composting school, talked to the Army Corps of Engineers about air curtain incineration and other experts about mulching and burning debris.
"What we have concluded and what we are pulling together as options to provide to the governor, is each island is going to have its own process for reducing yard waste," Robles said.
The amount of waste varies greatly, with as much as 450,000 cubic yards on St. Croix; perhaps 200,000 cubic yards on St. Thomas and perhaps 11,000 cubic yards on St. John, he said.
Right now, the government is thinking there will be no incineration on St. John "because the volume does not warrant it," according to Robles.
"There may not be a need for that on St. Thomas and if there is going to be a need anywhere, it may be on St.Croix because of the existing volume of waste," he said, adding that no decisions have been made about how much will be disposed of by which process.
"We are not married to any one process. We are just looking at what is most environmentally friendly, what is most effective and what is most efficient in reducing yard waste on each island," Robles said.
Harith Wickrema, president of Island Green Living Association, Judith Enck, former EPA Regional Administrator for this region, and several others testified strongly against incineration, arguing it produces an array of toxic pollutants.
Enck said after Hurricane Sandy, New Jersey planned to burn for three or four months, but stopped after one month. One of the problems was they violated clean air standards. The situation would be worse in the USVI because the air is warmer and more humid.
Virgin Islanders' "respiratory health is already being stressed," since the storms, Enck said, because of the preponderance of diesel generators outside and mold indoors. Adding more pollutants to the mix could lead to greater health problems, she said.
Wickrema cited an Army Corps of Engineers analysis estimating the cost of mulching or shredding the debris would be only slightly more expensive than incinerations. That analysis estimates $5.19 million for incineration; $5.32 million for mulching and $7.1 million for composting.
If the Army Corps will only pay the sum for incineration, "we can raise that difference," Wickrema said.
"What we don't want is to have a health care crisis months down the road," he said.
Enck said the Army Corps would pay 100 percent of the cost of debris processing until March and 90 percent thereafter.
Jackson said hardwoods should be separated from the debris and Virgin Islanders should have access to them for use in woodworking. Enck agreed and said both composting and separating hardwoods is "done everyday" in jurisdictions across the U.S.
Robles said he spoke with Army Corps officials about a month ago about a process for separating out valuable hardwoods and "they are doing their best to do that and are willing to do that." A plan is almost in place, and there is one more meeting planned to work out details, he said.
Senators expressed support for the concept if not all the details. "I support the bill. I wish we could vote today," said Sen. Nereida Rivera-O'Reilly.
Wickrema said St. Croix Renaissance was interested in having the composting done on a 10-acre section of their property on the southern shore of the big island. Sen. Kurt Vialet (D-STX) said he had reservations about the use of the St.Croix Renaissance site because the land is contaminated.
No votes were taken at the Committee of the Whole information-gathering hearing. The Senate is scheduled to vote on the measure during session Wednesday.