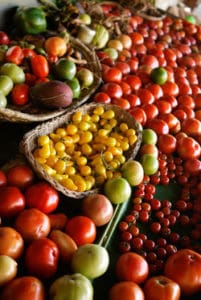 Dear farm friends and family,
It has been quite a ride since the double Cat-5 hurricane September. We are still up to our necks in downed trees, repairs to buildings, fences, water lines, and much more. I type this now from my phone, since we have not had Internet since Maria.
Luckily, we and all our animals made it out alive, and we are so thankful of that and that our main buildings only suffered minor damage. Most of all, we are witness to what Community Supported Agriculture is all about, as so many of you and others have stepped up to our aid. For that we give our deepest heartfelt thank you!
We want to do our part as well, so replanting and providing fresh certified organic food and trees for reforestation to the UVSI is our urgent priority. As farmers, we must always think months and years ahead, even as today we still struggle to dodge debris now hidden in six-foot grass and work with our seed house and plant nursery having been destroyed. Every corner of the farm is still bent and twisted, and we are discovering more problems daily, such as main line water leaks. Sheep are doing great finding new holes in the fences!
During the storms, our undersized but workhorse tractor was damaged beyond immediate repair and our mechanic was evacuated for medical care. Today, as I write this, he is in the States having his leg amputated. Please say a prayer for "Pops" that he may be protected and recover as best as possible. After salvaging what we could of our crucially important machine yesterday from his destroyed shop, it was apparent that the only way we can get back on our feet is with a tractor that does not need major repair and can serve the dual functions of clearing and planting.
Throughout our farm's history, we have been bent on "earning our keep" to demonstrate that sustainable development and organic farming can be financially sound. So, honestly, we have been reluctant to ask for donations. I hoped that FEMA or USDA could help us get out of this hole, but those hopes were dashed. However, we are at a point where if we don't get a working tractor soon, we will fall behind to a point where we cannot serve our farm to school and CSA programs in 2018. We are supposed to provide all the watermelons (and more) for the schools this year and our fields and fences are still trashed!
Fortunately, Friends of Ridge to Reef was created by some fans of the farm to help us get back in the saddle and moving back towards shaping sustainable Ag in the VI in this crucial time. Now is a prime time when we can make a big impact — with your help. We are so excited that over $10,000 has already been raised in their go-fund-me effort for R2R. It has been a testament to those who support this cause from those who have been here, and even from friends we've yet to meet. We thank everyone who's pitched in to that or other forms of support. The amount raised thus far is almost a quarter of what we need to get a high-quality working tractor on the farm with the implements required to tackle this mountain of work before us and get these lands to optimal production. The cost for the slightly used John Deere 505e with bucket, grapple and backhoe plus shipping has been quoted at the lowest we've found to be $48,000.
So, if you want to see us drive the future for organic food in the V.I., please visit the link below and consider a donation big or small. And please pass along to your friends who might have interest. Tax-deductible donations can also be made through a local non-profit to us, minus an indirect cost. Let us know if you prefer that option.
As the Virgin Islands' only certified organic farm, community supported agriculture is more than a marketing tool; it is the basis of our survival against all odds for what we do. At this point, we need our extended community to lift us up a bit, so we can function again as a productive farm. Even with a tractor, it will be an uphill battle. But as before we are ready for that challenge in order to serve others.
We feel that after the storms, we are finally at a turning point. This week we had our first farm dinner in three months and delivered 26 cases of lettuce to the public schools, so the kids can have something fresh to eat. Next week, we play host to a group of volunteers and look forward to a lot more forward movement. Thanks for helping us move this thing forward even more to the point of productivity.
The fundraiser: http://www.gofundme.com/tractor4ridge2reeffarm
In humble gratitude, Nate, Shelli and the whole farm family