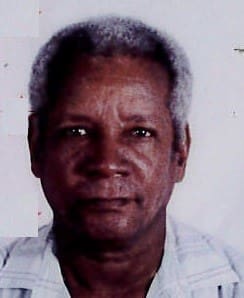 We announce the death of our beloved father, grandfather, great-grandfather, brother, uncle, cousin and friend George Maurice Gumbs, affectionately known as "Morris" and to some others as "Bull."
George "Morris" Gumbs of Wattices, Anguilla, who resided at Whim Gardens, St. Croix, died on Nov. 7, at Doctor's Center Hospital, Santurce, Puerto Rico.
Left to mourn are his ten children: Edith Gumbs on St. Croix, Gloria Wilkerson, MacDonald "Mackey" Gumbs and Olivia "Ava" Gumbs-Hodge all in Anguilla, Lorna Pemberton on St. Martin, Carol Pemberton and Ruth Hazel on St. Kitts, Bridget Gumbs in Connecticut, and Eloise "Pam" Benjamin and George "Sammy" Richardson-Nelson in USA; stepdaughter, Delrose Mills on St. Kitts; 42 grandchildren and 40 great-grandchildren; daughter-in-law, Veronica Gumbs on Anguilla; sons-in-law: Kennedy Walter Hodge on Anguilla and Curthley Mills on St. Kitts; and sisters: Cynthia Lake and Lucretia Lake on Anguilla and Elise Gumbs-Griffin on St. Thomas.
He is also mourned by brothers: William Gumbs and James Christian Gumbs on St. Thomas; sister-in-law, Limirah Gumbs on Anguilla; brother-in-law, Joseph Griffin on St. Thomas; nieces: Agusta Lake, Patricia Lake, Iona Lake and Venetta Lake on Anguilla, Irma Fahie Williams on Tortola, Elaine Lake-Burris in U.S.A., Tattian Gumbs, Charmaine Gumbs and Janet Gumbs in U.S.V.I. and Beverly Gumbs on St. Kitts; nephews: Christopher Lake and Bernard Lake in U.S.A., Joslyn Lake, Roy Lake and Delroy Lake on Anguilla, Johnny Gumbs, James Gumbs and Jack Gumbs in U.S.V.I; 27 great nieces; and 27 great nephews.
Other mourners include many cousins too numerous to mention including Bernice Richardson and family, Octavia Lake and family, the family of the late Donice Hodge, the family of the late Ellen Payne, Mabel Gumbs and family, Della Hodge and family, and the family of the late Camilia Gumbs; many other relatives and friends including Mr. and Mrs. Bernette, Violet Rogers, Vesley Innis, Cebert Franklin, the staff and other residents of Whim Gardens Senior Citizens Home, the maintenance staff of Sunny Isles Shopping Centre and Dr. De Chabert and family. He was related to the Gumbs, Lakes, Paynes and Cartys.
The body of George Maurice Gumbs will be laid to rest on St. Croix, U.S. Virgin Islands, on Dec. 1. The viewing will begin at 9 a.m. and be followed by a funeral service at 10 p.m. at St. Peter's Episcopal Church. Interment will be at Kingshill Cemetery.