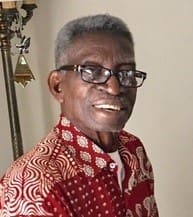 Sylvester Ivan McIntosh Sr., also known as Blinky," died at his home on Saturday, Nov. 11, surrounded by loved ones. He was 83 years old.
He was preceded in death by his parents: Ivan and Ethel McIntosh: siblings: Elmira Espinosa and James McIntosh; and sons: Sylvester Jr., and Stanislaus McIntosh.
He is survived by his wife of 33 years, Mary Corry McIntosh; daughters: Sandra M. McIntosh, Annette McIntosh Christian, Hollis McIntosh, Patricia Pedraza, Karen McIntosh-Bruce, Christine McIntosh and Laurene McIntosh; and grandchildren: Annetta Herve, Akisha Thomas, Akeena Pereira, Carl Pereira III, Sean Smith, Schanel Silvest, Johnathan Pedraza, Daniel Pedraza, Sarah Pedraza, Rashid Iles, Kalid Bruce, Jayne Sonnier, Solé Rogers, Ahsan Fairfax, Ari Fairfax and Isaura Fairfax.
He is also survived by great-grandchildren: Shadiin Smith, Tai Smith, Neela Thomas, Carl Pereira IV, Jo'hara Pereira, Yamori Pereira and Jacob Pereira; and nieces and nephews: Kareem, Ivan Jr., Wilma (George), Adrienne, Cynthia, Edward and Shanna Espinosa, Christian Lloyd, Elizabeth, Clarence, Edward, Livingstone, Robert and Austin Joseph, Estellita Espinosa, Kalif Jenkins, Edward Louis Espinosa Jr., Phylis Espinosa Joseph, Adrienne Jenkins and Clarence Espinosa.
Other survivors include in-laws: Kevin and Domenica Corey and the extended Corry family, David E. Bruce Sr., Martin Pedraza, Eric Sonnier and Eusebio Christian Jr.; family and special friends: the McIntosh, Petersen, Davis, Francis, James, Gore, Miller, McManus, Williams, Joseph, Soule, Joshua, Cannas, Schrader and Farrelly families, and members of Blinky and the Roadmaster; as well as other family friends and associates too numerous to mention.
The viewing will take place at 9 a.m. followed by a funeral mass at 10:30 a.m., Monday, Nov. 20, at St. Gerard's Hall, St. Patrick's Church in Frederiksted. Interment will be at Frederiksted Cemetery.