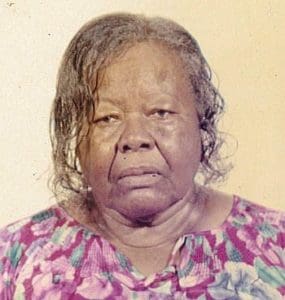 Cynthia Maria Thomas of Estate Calquohoun died on Oct. 25.
She is survived by her caregiver, Roosevelt Rawlins; nieces: Vitalyn Forbes Henry and Carmen Forbes Sewer; great nieces: Sheryl Jackson, Glenda Nugent, Alexis Brown, Donna Edney, Sherrymae Jackson, Avenile Jackson Terrell, Janis Esannason and Mary Sewer; and great nephews: Valencio Jackson, Creig Krause Sr., Mario Charles, Everett Forbes, Rhudel Rabsatt, Ulysis Piper and Mathew Lovell.
She is also survived by special friends: Yolanda Thomas, Crystal Strachen, Eulalie Pedersen, Oneca Glasgow, Rochelle Gomez, Marjorie Moorehead, Udel Luke, Camaleater Roame, Carmen Moorehead, Clyde E. Mann, Linda Bough, Mr. and Mrs. Albert Schuster, Mr. and Mrs. David Henry, Mr. and Mrs. Richards Schrader, and Isaac Thomas; cousin and other relative: Clarita Thomas and Genieve Allen; as well as other relatives and friends too numerous to mention.
A viewing will take place at 9 a.m. and a funeral service at 10 a.m., Thursday, Nov. 16, at St. Peter's Episcopal Church. Interment will follow at Kingshill Cemetery.